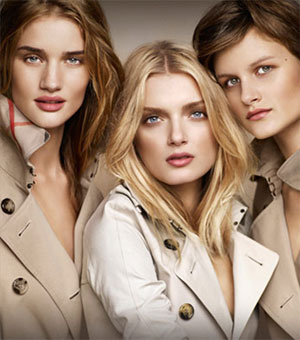 You may have heard the news that Burberry London has launched a beauty line! Burberry Beauty is now exclusively sold at Nordstrom, and the collection is jam-packed with high-quality, richly-hued makeup that reflects the brand's iconic style. So if a classic Burberry trench isn't in your budget, at least you can achieve some of the look with your makeup!
1) Burberry Lip Glow Natural Lip Gloss, $27
2) Lip Cover Soft Satin Lipstick, $30
3) Lip Definer Shaping Pencil, $27
Over thirty shades of lipsticks and lipglosses in colors in lightweight formulas bring our your best natural look. The moisturizing lip colors are long-lasting and range from "nude trench tones to Burberry reds." Formulas contain anti-aging cerimides that promise continuous hydration, UV protection and fuller lips.
4) Sheer Luminous Fluid Foundation, $52
Nine foundation shades in a sheer cream fluid offer an illuminating glow without the feeling of heavy makeup. The hydrating gel formula protects skin with UV filters.
5) Effortless Mascara Volumizing Enhancer, $28
The "Effortless Mascara" is a gel formula that glides on and works to extend lashes naturally, while strengthening.
6) Sheer Eyeshadow, $29
Twenty eye shadows, in shades like Trench and Khaki are light and creamy, with long-lasting results. The overall look is natural and earthy, yet provides a bit of drama and definition.