From our friends at The Find: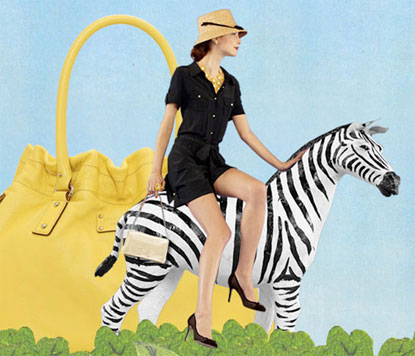 While undoubtedly chic in its classic simplicity, normally Kate Spade hardly comes out with anything that really excites me, save for the occasional sequined clutch or pastel-striped iPhone cover. However, once in awhile the brand creates a collection that totally wins me over as a whole because it's either delightfully quirky but practical at the same time, and creates an overall look of laid-back elegance that still manages to maintain a bit of whimsy, like the new Get Carried Away collection. Of course, I can't exactly afford to buy the whole collection and imitate this perfectly put-together look, but it's fun to dream!
Inspired by that last-minute spontaneous summer getaway and the idea of "escaping the ordinary" (I guess that's where the zebra comes in!), the Get Carried Away collection is summer-festive yet unique and pretty with its bee-themed jewelry, and quirky with fun spins on trendy items like the Straw Sunglass Hat. And of course, it boasts its own takes on the Kate Spade handbag styles, like the Flicker Mini Mirra in a new soft gold shade. As if the idea of a spontaneous vacation wasn't fun enough, looking great on your getaway while decked out in Kate Spade would definitely make things more enjoyable!
-Alex Gambardella
Save on Kate Spade from TheFind.com's coupon site