From our friends at The Find: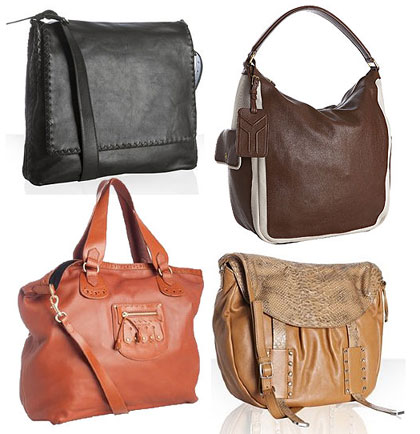 If one of your resolutions is to be more organized and stay at the tippity-top of your game for 2012, there's an easy way to start – and shopping for the perfect carry-all bag is where it all begins! Say goodbye to your not-so-practical bottomless pit bucket bag that manages to hold everything yet makes everything impossible to find at the same time. Equip yourself with an organizer tote or messenger bag that's fashionable and functional, with plenty of pockets to hold all your loot! Make sure to choose something that's sleek and easy to carry by your side, whether you're hauling your laptop and books across campus or dashing from the gym to work to happy hour and beyond. With a more streamlined design and handy compartments to separate your pens from your eye pencils and your gym clothes from your work presentations, you'll be kick-starting the new year with a more organized (and more fabulous) new you!
Pictured above: Bottega Veneta Crossbody Messenger Bag, Yves Saint Laurent brown leather and canvas 'Multy' hobo shoulder bag, See By Chloe sienna leather 'Hilo Double Function' tote bag, and Botkier 'Morea' Crossbody Bag.
WIN a $500 Bluefly Hook-Up. Start 2012 with a splurge—on us! Enter for the chance to WIN on the official Facebook Giveaway Page here.
– Alex Gambardella