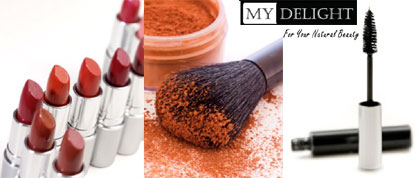 If you are a regular reader, you might know I am a fan of natural beauty products – I've been wearing mineral foundation for years (and have tried quite a few). I recently learned of a beauty company that offers vegan makeup and was excited to recieve some to try it out.
Mineral Foundation Mineral makeup is so hard to do right. I've tried brands that look too powdery, or too yellow, don't blend well or feel to heavy. But My Delight's powdered mineral foundation is a very sheer, lightweight formula that feels great. It offers light coverage, perfect for daytime use, and the natural ingredients don't clog pores. Plus, it's got built-in sun protection, a must even in winter weather. I've only tried it dry with a powder brush, but you can also mix it with moisturizer if you prefer liquid foundation.
Natural Mascara Mascara is one makeup product that I usually stick to the mainstream brands. They seem to offer better, long lasting coverage, and less clumping and flaking. I know, it's all the yucky chemicals! But, I would rather wear natural ingredients around my eyes for obvious reasons. The Mascara from My Delight is made from vegan ingredients and goes on smooth and clump-free. Natural apricot kernel oil conditions lashes while depositing color on each lash.
Lips My Delights lip moisturizers are a handbag must-have. Throughout the day, lipstick can get dry and flaky, but a quick swipe of their lip moisturizers restore softness and smooth lines. Using coconut and jojoba oils, the natural ingredients keep lips moisturized all day long.
I'm also a fan of their sheer, vegan lip gloss for daily wear. The color is light, but it's perfect for adding some shine to lipstick or wearing alone. And I feel good about the natural ingredients.
For more information, or to purchase My Delight cosmetics, visit: MyDelightonline.com.