From our friends at The Find: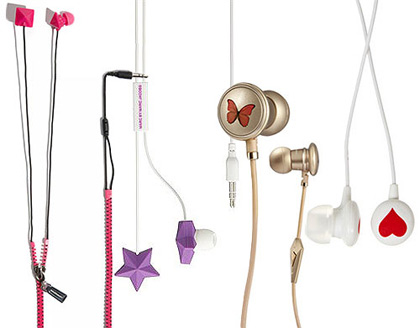 I take my music pretty seriously. So seriously, in fact, that back in college I would actually only go to class if my iPod was sufficiently charged… and let's face it – my gym workout is basically over if my iPod decides to quit on me. That said, I've never been too picky about my music-related accessories; as long as my earbuds actually stay in my ear, aren't too tangle-prone, and don't stop working in one ear after just a month of use, I'm satisfied. However, the latest designer-branded gadgets have me whistling a different tune! Sure, $180 sounds like a hefty price to pay for some headphones, but I can honestly say that these are some of the most fabulous earbuds I've seen, and for once I'm starting to understand the appeal of music accessories as fashion accessories! From Diane von Furstenberg to Rebecca Minkoff, I've rounded up a few of my favorites that may tempt you to splurge on your next pair of earbuds!
From left to right: Rebecca Minkoff 'Zipped Up' Ear Buds, Marc by Marc Jacobs Star Earbuds, Vivienne Tam High Performance In-Ear Headphones, and Diane von Furstenberg Heart-print Earbuds.
– Alexandra Gambardella
Announcing the launch of Glimpse by TheFind – a new socially-curated shopping experience!