Denim shirts have been a staple for years. There are so many ways to wear them, and the more you wear them in, the better they look.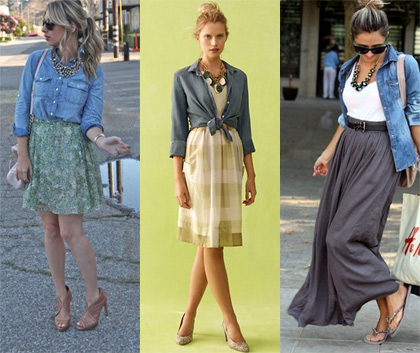 Styling Tips:
a) Wear tucked in to a pretty, printed skirt. I love how the casual denim offsets a feminine print.
b) Tie in a knot over a dress or skirt/top combo. Slightly retro, totally flattering.
c) Swap your cardigan for an unbuttoned jean shirt – Keeps you warm and totally on trend.
Of course, all of these looks would work with pants too!
For the past few weeks, I have been on the hunt for the perfect denim shirt. Key requirements include: medium to dark wash, high-quality fabric, understated buttons and a slightly worn-in look. It shouldn't be this hard, but finding a denim shirt that fits this set of criteria hasn't been easy. I have founds shirts that are too expensive, have embellishment, are too thin, such as chambry, etc.
I've narrowed my picks down to three denim shirts, representing a variety of price ranges. What is your favorite?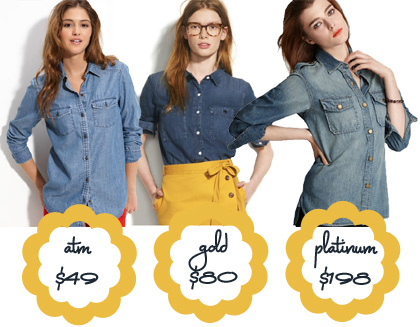 ATM
Rubbish Chambray Shirt ($49)
Gold
Madewell Denim Campsite Shirt ($79.50)
Platinum
Current/Elliott Perfect Denim Shirt ($198)
What is your favorite way to wear denim shirts?
*Images above from Pinterest – here, here and here*