From our Beauty & Style Editor, Theresa Johnston
We're crushing on Fashion Designer, Abi Ferrin! Not only has she designed the incredible Nikki 5-Way Dress, a dress that truly looks amazing on every body type, she's also started The Freedom Project, a social movement focused on empowering men and women around the world to escape abusive and oppressive situations. Needless to say, we're totally impressed!
We were really excited to have the chance to catch up with Abi recently. She told us all about her design inspirations, her latest collection, and her philanthropy.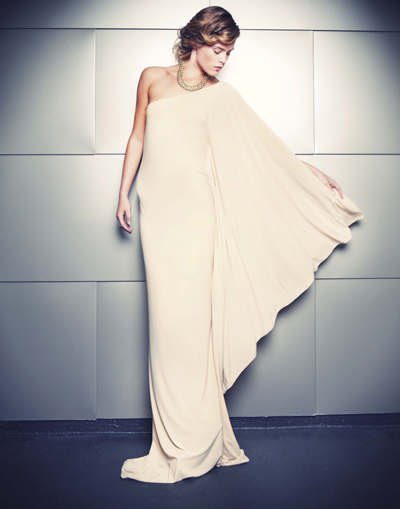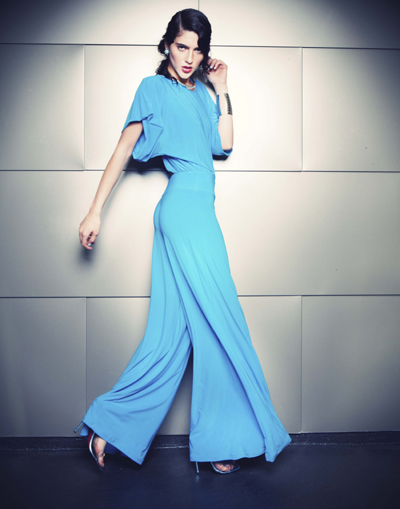 SP: Tell us a little about how you got your start designing.
AF: My interest in design began at age seven in my hometown of Jackson Hole, Wyoming. I was in 4H learning sewing and pattern work. That was my only fashion training.
I got my degree in political science and journalism and was working in Washington D.C. I thought I was going to be a political journalist but soon realized it wasn't really my calling. I decided to move to LA to "find myself." I began working at Paramount Pictures as a temp, and given that temps don't make a whole lot of money, I started making my own clothes. The job required that I go to lots of events, which translated into a need for many cocktail dresses that a girl on a budget couldn't afford. I started making a lot of clothes for myself to wear out. It wasn't long before I started attracting celebrity attention on the red carpet. And the rest, as they say, is history.
SP: Where do you get your design inspiration?
AF: I can find design inspiration in just about anything. Growing up in the shadow of the Grand Tetons in Wyoming has always supplied inspiration for my line. Artists like Erte, Salvador Dali, and Georgia O'Keefe have been huge inspirations for my designs lately.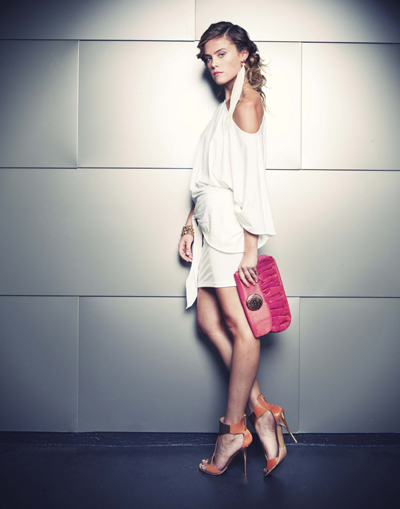 SP: How would you describe the Abi Ferrin aesthetic?
AF: My personal style is bohemian chic. I love to dress up in a relaxed way. This certainly translates to my line, which I aim to make versatile, flattering, and chic.
SP: If you had to describe your collection in 3 words, what would they be?
AF: Versatile. Empowering. Travel-friendly.
SP: What type of woman wears Abi Ferrin clothing and accessories?
AF: My line is designed with the woman on-the-go in mind. Many of the pieces in the line are constructed from a jersey fabric that is perfect for travel. I am constantly on the move and can truly attest to this. These pieces can literally be balled up and thrown into a suitcase and will still look great when you arrive at your destination.
Abi Ferrin customers are socially conscious individuals looking for clothes that are effortless, chic, and make them feel fabulous.
SP: What is the one piece in your collection every woman should have?
AF: The Nikki 5-Way Dress (pictured above) should be a staple piece in every woman's closet. It is so versatile and looks great on every body type. Depending on how you tie, drape or twist the fabric, the 5-Way can go from conservative to sexy. It is the perfect desk to dinner piece and can evolve to every woman's lifestyle.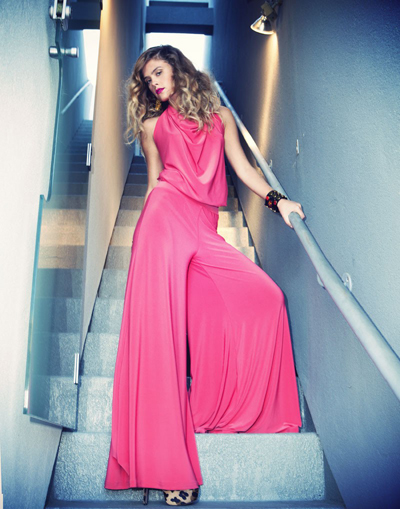 SP: What is your favorite piece in your collection?
AF: Right now I'm loving the 5-way Beverly pantsuit (pictured above). It's so easy and unique!
SP: What are some fashion trends that we are going to see in upcoming seasons that will be reflected in your designs?
AF: Asymmetrical hemlines, colored lace, beautiful blues and greens, layers and texture.
SP: What is your current favorite fashion trend?
AF: All of the bright colors!
SP: What trend would like to see disappear?
AF: Poorly done espadrilles, but to each her own!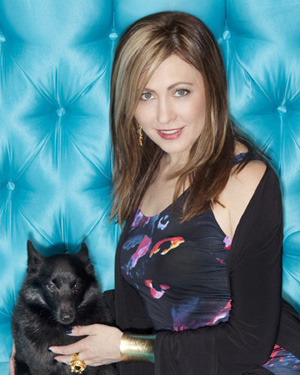 SP: Tell us about the Freedom Project. How did you get started with this cause?
AF: The Freedom Project is the philanthropic arm of Abi Ferrin Inc. It aims to help commission disenfranchised men and women from around the world and empowers them to escape abusive and oppressive situations, be it a relationship or working conditions.
Through The Freedom Project, those involved are able to build their own self-sustaining economies and enjoy the fruits of their skill and dedication. Each Abi Ferrin design is enhanced with a special handcrafted button, toggle, or other embellishment, hand-made by people involved with The Freedom Project.
My involvement with The Freedom Project developed from my own experiences in a physically and emotionally abusive relationship. It is my mission to help liberate other people who find themselves in a similar situation, but lack the means or strength to break away.
SP: How do you see the company evolving in the future?
AF: The sky's the limit. Our celebrity following is growing every day. From Holly Robinson Peete to Perrey Reeves, Vanessa Williams, Sherri Shepherd and Heidi Klum, to name a few, it's so inspiring to see powerful women like these use their influence to support an incredible cause!
Where to Buy:
Abi's gorgeous collection, including the Nikki 5-Way Dress, is available at abiferrin.com and Nordstrom.com.