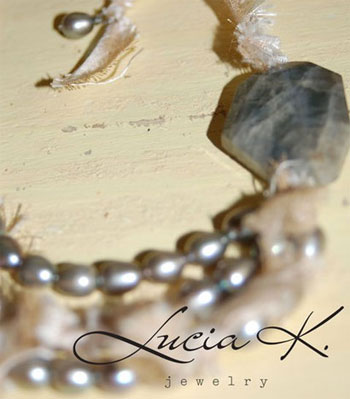 Lucia K Jewelry is a line of enchanting pieces the modern women will covet. I recently caught up with designer Kirsty Papadopulos at a local Seattle coffee shop to view some pieces in the Lucia K collection and hear about the line.
Inspired by past generations, Kirsty uses ribbon, silk fabric, pearls and gemstones to create a collection that is ethereal yet edgy. What begun as a hobby has evolved into a full-time business for this busy mom of two boys.
Kirsty began designing and creating jewelry for friends and family as well as herself. She made things she'd want to wear, and to "fill holes" in her wardrobe through accessories. It was only recently that she decided to turn her creative outlet into a full time business. "I'm not a perfectionist," Kirsty remarked. She likes "raw edges and pieces with an organic feel". This sense of undone elegance is reflected in her designs. Versatility is also a key component; Longer pieces can be worn shorter and vice-versa. Each necklace, earring and bracelet is handmade by the designer, and you can truly see the amount of attention to detail that goes into each one.
"Each item in the Lucia K collection is named after an influential woman in my life," Kirsty said. The past and present are fused together through each design. "I have an armoire of ribbons and fabric pieces that I use as inspiration." Kirsty artfully combines ribbon with Swarovski crystals, chain with fabric. Little details, like magnetic closures on bracelets so you can put them on by yourself, give the designs a practical edge. The best part is, the pieces work as easily with a t-shirt and jeans as with a cocktail dress.
Some of my favorites: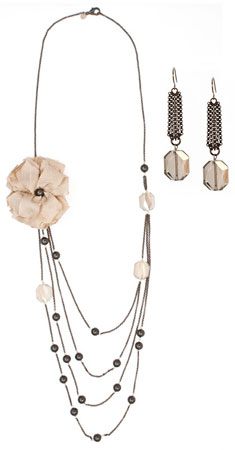 The best-selling Estelle necklace ($135 – pictured above) is made from Swarovski crystals and crystal pearls, chain and a silk flower. A series of cascading chains dotted with crystal pearls effortlessly achieve the layered necklace look. Matching crystal drop earrings ($55) complete the look.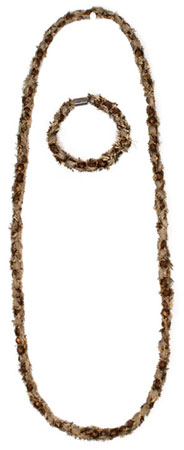 Kirsty uses silk material to create her own ribbon for the Vivian necklace ($75) and bracelet ($45). A "feathering" effect adds texture and gets better the more it is worn. It wraps around gorgeous bronze fire-polished crystal beads. The matching bracelet has a magnetic closure making it easy to secure yourself.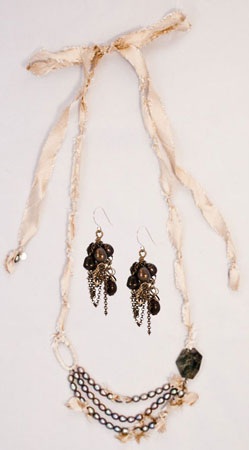 Made from labradorite and pearls, the Patricia necklace ($110) is classic while being slightly undone – the raw-edged ribbon tie on the necklace pairs so well with the pearls. Definitely not your grandmother's pearl necklace! Clusters of dark pearls and chains make up the matching earrings ($67.50).
So what's in store for Spring? "Lots of black and white, pale pinks, blues and greens," said Kirsty. The line will have pieces inspired by ballerinas, but with a bit of rocker edge – a juxtaposition of ruffles and chains. She's also feeling inspired by "preppy edgy urban stripes." I can't wait to see what's next for Kirsty and Lucia K jewelry.
Items in the Lucia K. collection retail from $45 – $193, and come packaged in a lovely linen pouch.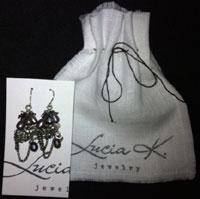 Lucia K Jewelry is available online at Endless.com and Amazon.com, as well as local Seattle boutique Far4.
For more information about the collection, visit Lucia K on FaceBook and follow on Twitter.
Coming Soon: A Lucia K Jewelry giveaway on Skinnypurse.com!