Designer denim lines like Current Elliott, Joes and Prps have us craving all things tattered, torn, studded and bleached. But ironically, distressed and modified denim can cost a fortune! Now, you can DIY your own denim with an easy kit designed by the wardrobe fix experts at Bristols 6. With the Denim Kit, all it takes is a pair of old jeans and a skosh of creativity – Bristols 6 does the rest!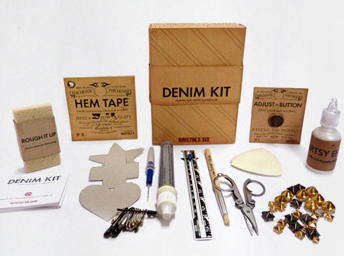 Get the designer look without the price tag. The Denim Kit offers you tools and DIY techniques to let you easily detail your own denim. It includes white fabric paint, a bleach pen, a bristle brush, a pumice stone, stencils, a seam ripper, scissors, tailor chalk, safety pins and studs. Also included is their popular Hem Tape and Adjust-A-Button, plus some other extras.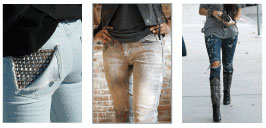 The Denim kit ($32) is available for pre-order at Bristols 6.
Bristols 6 is also home to the ever-popular Nippies and other amazing wardrobe solutions.