I've been in search of a good eco-friendly shampoo and conditioner for a long time. The ones I have used tend to either not lather enough (usually due to the lack of sodium laureth sulfate (SLS), an ingredient used in shampoos to create lather), or don't leave hair feeling scrubbed clean or soft after use. I recently had the opportunity to try Privé Concept Vert Rejuvenating Pure Shampoo and Conditioner, an eco-friendly formula designed to cleanse, nourish and strengthen hair, and wanted to share my feedback with you.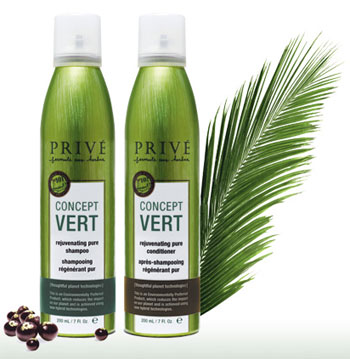 Privé Concept Vert Rejuvenating Pure Shampoo and Conditioner come in aluminum bottles. The packaging reflects the company's commitment to doing things the eco-friendly way. Bottles are made from recycled materials, and can be brought back to participating salons to be cleaned and refilled. Foam-dispensing bottles give you a more concentrated product, as well as a bigger bang your buck. In my experience, one full pump gave me more than enough product. I recommend trying a half-pump.
The formulas smell amazing; lightly herbal and floral. Clean without being overly perfumy. Another bonus: Concept Vert formulas are designed with color-treated hair in mind, and will not strip color away. In terms of getting a good lather with the shampoo, Privé Concept Vert surpassed any other green shampoo I've tried. My shoulder-length hair lathered a ton, and felt clean but not stripped when I rinsed it out. The conditioner feels like it moisturizes and, again, you do not have to use a ton of the product to get the result you want.
I've been loving using this shampoo and conditioner and have said goodbye non-eco-friendly, SLS-containing products! I am officially a convert to Privé.
Visit the Privé website for more information on Concept Vert Shampoo and Conditioner and other Privé products.
Privé Concept Vert Rejuvenating Pure Shampoo ($33) and Conditioner ($28) are available at Amazon.com as well as in fine salons nationwide.
Next Up: Don't miss our review of Privé Intensive Mask – a luxuriously moisturizing hair mask.