Home to an ever-evolving line of skincare products, as well as a range of longstanding favorites, the Body Shop is one of our favorite stops at the local mall or online. With natural ingredients and prices that can't be beat, you can easily stock up on everything from makeup to bath products, and even leave with a couple gifts for your friends and the man in your life.
To make shopping a bit sweeter, The Body Shop is offering two fabulous deals through August 8th: You can save 30% on select bath & body products and get Free Shipping on all orders over $60.
Here are some of our favorite products from The Body Shop – both new and old standbys: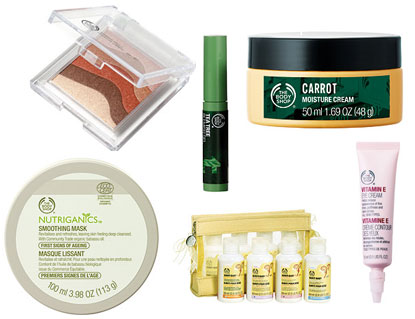 Vitamin E Eye Cream, $17. A super-moisturizing, lightweight formula that goes on smooth. Not sticky or greasy. Love everything in the vitamin e collection.
Carrot Moisture Cream, $5.99. Extra-moisturizing face cream leaves skin hydrated and soft without clogging pores.
Shimmer Waves Eye Shadow, $22. Sweep this sheer, shimmery color over eyelids for a luminous effect.
Buriti Baby Mini Baby Essentials, $25. Indulge mom and baby with this perfect baby shower gift full of bathing essentials.
Tea Tree Blemish Gel, $9. Tea tree oil offers so many skin-healing properties and this blemish gel does wonders at spot treating acne.
NutriganicsT Smoothing Mask, $22. Organic ingredients smooth skin and leave it glowing.