From our Beauty & Style Editor, Theresa Johnston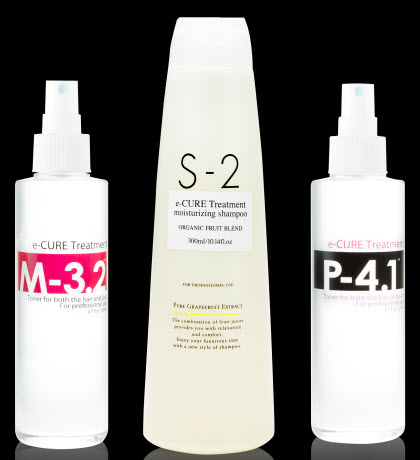 Worn-Out Hair
Early this summer, I accidentally colored my hair too dark. I wanted a medium red brown and ended up with a goth-looking dark auburn. Oops! Ever since, I have been washing my hair every day with clarifying shampoo, sometimes twice a day, trying to get the over-dark color to fade as fast as possible. Eight weeks later, the dark color has mostly faded but my fine hair is really dry and damaged feeling.
Hello E-Cure
I had been considering getting several inches cut off to get my hair back to a healthier state but I was given an e-Cure Conditioning Treatment kit to review for Skinnypurse.com, so I thought I would give it a try before doing anything drastic. The e-Cure Treatment was developed by Armada Japan and Armada-Style USA as an effective, chemical-free deep conditioning treatment to restore dry, damaged hair. The lightweight, all-natural products are formulated with deep sea and wild plant minerals rich in antioxidants that work to restore hair's moisture and strength.
The e-Cure Treatment Process
The e-Cure Treatment was a simple process that took very little time. First, I sprayed my hair until saturated with M – 3.2, a water-light anionic spray which contains deep-sea and plant minerals. Anionic means it's loaded with negatively charged ions, by the way. Next, I shook together M – 3.2 with S-2 Moisturizing Shampoo in the measuring bottle provided with the kit. Then I applied the foaming mixture to my hair and let it sit 3 to 5 minutes. Without rinsing I sprayed on P – 4.1, an anti-static liquid that contains positively charged ions, and gently combed it through my hair with a wide-tooth comb. Finally, I rinsed the products out of my hair and let it dry naturally.
The Results
As soon as I rinsed my hair, I could feel a difference. My hair felt much thicker and stronger. After I let it dry, it felt more hydrated and smooth. It also felt incredibly clean and not weighed down. I can't believe I could get such great results from such a quick, simple-to-use treatment!
Where To Get It
The e-Cure Treatment kit is sold only in salons. You can find one near you at ecure-treatment.com.