From our friends at College Candy: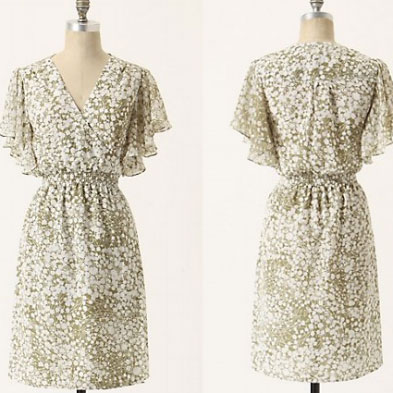 So I just got back from a glorious seven days lounging on the beach with no worries other then which wine cooler to pop open next and which bathing suit to wear. And of course the second I arrived back at my doorstep I had a major reality check greeting me with open arms. I instantly went from beach bunny to recent-college-grad-desperate to-make-a-dime.
I can accept the fact that instead of enjoying my morning coffee on the patio overlooking the ocean I will be fighting rush hour traffic in the muggy subway; but what I can't so easily throw away is the easy style of a beach getaway. I refuse to put on anything other than breezy dresses and floaty tanks while I am away and while I love my skinny jeans to death, my legs got some much appreciated breathing room.
I know I can't skip into the office wearing a linen mini dress and some flip flops but I also refuse to stuff myself back into my snug pencil skirts and flats. Which is why Anthropologie's Baby's Breath Dress is really exciting me right now (seriously, I can barely keep myself from putting it in my shopping cart and paying for it to be overnighted).
The moss-green silk fabric with white flower bud detail is so delicately feminine and the shape only plays up the girlish vibe. The faux-wrap plays up our womanly curves, accentuating the ladies and our waists, and flows seamlessly over the nether regions (hitting none of the bumps or dimples along the way). And we can't forget the best part: it is elegantly comfortable. A perfect combination of that beach-easy comfort while demure details like the flutter sleeves and longer hemline make it totally office appropriate.
Don't miss the rest of the reasons to get this dress…