A triathlon can be an excellent way to get in shape and get a bikini-ready body, but the thought of participating if you've never done it before can be daunting. We came across this great little book called Triathlon for Girls Like Us by Gloria Safar. Designed to provide information that specifically addresses women's participation, this quick read is an easy training manual for those with a triathlon on their list of goals.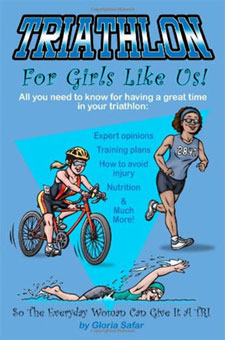 Author Gloria Safar is not only a Personal Trainer, Fitness Instructor, and Lifestyle and Weight Management Consultant, but also a motivational coach. With her insightful tips, the reader is fully engaged and motivated to train. The beauty of Safar's book is that you don't have to have a trainer to achieve your fitness goals. Safar lays out easy-to-accomplish training goals for the everyday woman (girls like us)! She also provides lessons on everything from facing fears to choosing the right sports bra, in addition to preventing injuries and how to eat well.
Triathlons for Girls like us is like a mini-cheerleader in a book, and promotes the concept that anyone can do it. And hey, a little extra motivation in the fitness department is always helpful!
Price: $11.07. Available at Amazon.com