This weekend I spent quite a bit of time trying to get organized. I went through closets and purged clothing and shoes. And finally sorted through my jewelry. I bought a few Stacking Jewelry Trays to keep pieces separate, and dedicated a dresser drawer for jewelry. (Previously, everything was stored in various bowels and boxes, making it hard to tell what I had.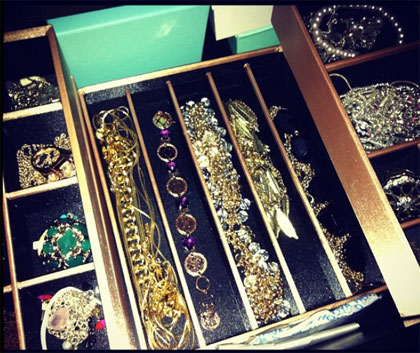 A sneak peek at my jewelry drawer
Part of the organizational process always makes you take stock of what you have, and realize what you need. When it comes to jewelry, it seems you can never have too much!
Fortunately, thanks to local boutiques, mainstream stores and online favorites like Gilt Groupe, Bauble Bar and Max and Chloe, access to fabulous jewelry is at our fingertips. I recently learned of a jewelry website that offers unique pieces that won't break the bank.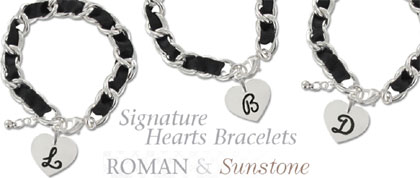 RomanSunstone.com offers a selection of modern styles in sterling silver, pearls, gemstones and more, that will stylishly accent any outfit. They sent me a few pieces to try out, and they fit perfectly in my newly organized jewelry drawer.
From ever-popular initial bracelets, to classic pearl pendants, Roman Sunstone has something for everyone. A stack of Sterling cuff bangles is the perfect accent to a casual Sunday brunch outfit. The Black pearl and bead necklace would add a bit of whimsy to even the most conservative sweater set – a must-have for the office. And the Crystal fireball and cream pearl cluster earrings would dress up any LBD. And the best part? Everything I listed above is under $50, giving you a reason to shop for multiple occasions!