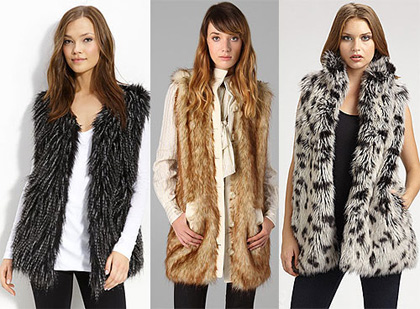 Ahh, yes. I remember a couple of years ago when the fashion world first told me that
faux fur vests
were supposed to "in." I was beyond appalled. I mean… what?! In fact, I remember thinking to myself specifically:
As crazy as this sounds to me now, I just know that in about two years I'll be convinced that it's the most chic thing ever and be on the search for one of my own!
And sure enough, like with most trends that are hard for me to stomach at first glance, here I am 2 years later, seeing celebrities rock their cozy faux fur vests as casually as their favorite everyday hoodie (except way cooler) and totally coveting one of my own! But unlike the first interpretations of the trend, which seemingly tried to hide their fuzziness and pass themselves off as "subtle" (ha!), the newest fall and winter versions for this season are unapologetic shaggy and voluminous to make the most of this statement-making piece! Add plenty of texture with this dark
feather-look vest by Collection XIIX from Nordstrom
, or if you're not afraid to get
really
rockstar with it, this
printed Alice + Olivia vest
has a sexy snow panther vibe if you have the guts to work it! Still hanging on to the boyfriend trend? We've even got a faux fur vest to suit you – this
Rachel Zoe vest
is long and oversized, just like your favorite boyfriend cardigan!
– Alexandra Gambardella
From our friends at The Find