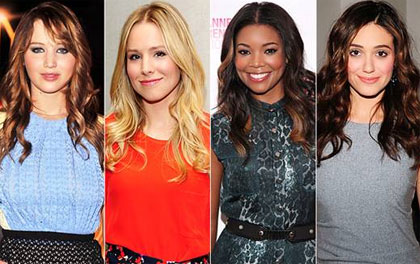 For years, I have been trying to get my hair to be straight. I blow-dry it straight, followed by a flat iron. I special request that my beloved hair dresser flat iron it on the hightest heat setting – I want to leave the salon with stick straight hair. But, recently, I've decided to embrace the wave. My hair is by no means curly. No, it lives in that awkward 'tweener' stage of not curly, but not straight. I won't get into the many woes I have about my hair (how boring), but I will say this: changing my attitude to trying to work with the wave, instead of against it, has not only resulted in a few mintues of extra time in the morning, but it has also been kind of mentally freeing.
If you want to embrace your own waves, here are a few easy steps you can take: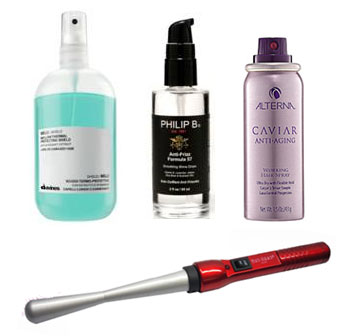 Step 1: Wash hair and spritz in a heat protector like Davines MELU Thermal Protecting Shield ($31). This helps combat the drying effects that heat styling can cause. The Davines formula also adds some shine to hair.
Step 2: Get loose curls with a heat styler, like Bed Head's Curlipop. I have been using the Hourglass styler to get tighter curls in the middle and looser curls on the ends. I first tried it out before a night out with friends (in-action photos below), and my husband was fascinated with the whole process, especially the heat-resistant glove (oh, men). Ever sense I tried it, I have been a little obsessed. You can achieve different degrees of curl tightness with the styler – from loose and wavy to 80's perm. It's super easy-to use.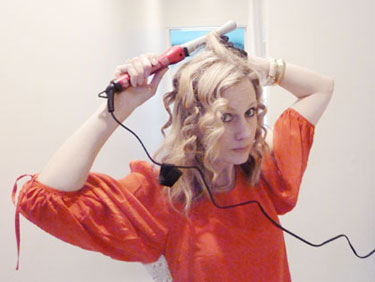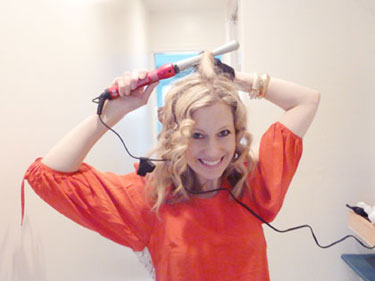 Step 3: Smoothe curls with Philip B. Anti-Frizz Formula 57 ($35). The formula contains Lavender, Jojoba, Rice Bran and Soybean Oils to condition, moisturize and smooth. Then, set hair with a lighweight hair spray such as Alterna's Caviar Anti-Aging Working Hair Spray ($8) – an ultra-dry formula that lets hair move.
You are set! What are your tips for getting loose waves?