Ever since high school, when summer rolls around, I make a trip to Everything But Water to pick up a few swim suits. I shopped the stores in the Bay Area, CA, but now you can find them at local malls nationwide, as well as online.
Well-known for their amazing merchandising, it's hard not to want to grab suits in every color, from bright mandarin orange to turquoise, to everything in between.
I am excited to check out the new store opening at Bellevue Square in Washington. Come see it with me!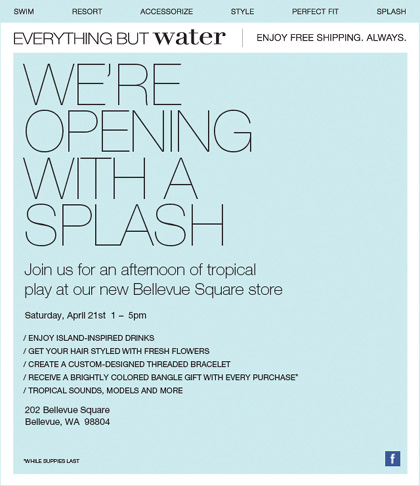 Join Everything But Water for their Bellevue store opening during an afternoon of tropical play.
When: Saturday April 21st, from 1pm to 5pm
What: Have your hair styled with fresh flowers, enjoy island-inspired drinks, create your own getaway souvenir – a custom-designed threaded bracelet, and receive a brightly colored bangle with every purchase while supplies last!