From our friends at The Find: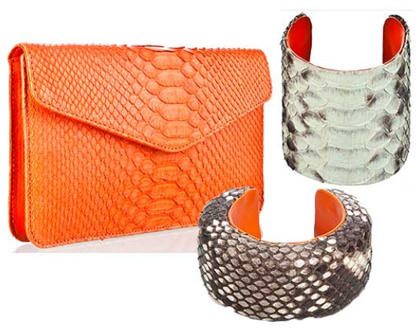 If there's one thing I love more than exciting, sexy takes on the standard set of neutral accessories, it's exciting neutrals paired with statement-making colors! Neons are already Spring's hottest new obsession, and neutrals will always be in, so you have to admire a designer who seamlessly blends the two contrasting trends together to form fashionable pieces that are sophisticated yet spunky! New York based designer Camille Zarsky is new at designing her own collection (after years and years of working for fashion bigwigs like Hugo Boss and Rebecca Minkoff), but she's already a pro at mastering this trendy hybrid of colors and textures. Sticking to her signature python skins and sexy, snaky prints, her bags, clutches, and cuffs are made with the utmost craftsmanship but still exude a fun, easy effortlessness that anyone with an eye for fun, contrasting shades and trendy textiles can appreciate! Check out her latest collection of spring-ready accessories on her official website, as well as her offerings on Bluefly!
Pictured above: Camille Zarsky Gala Clutch in Tangerine Python, Medium Python Cuff, and Flat Python Cuff.
– Alexandra Gambardella