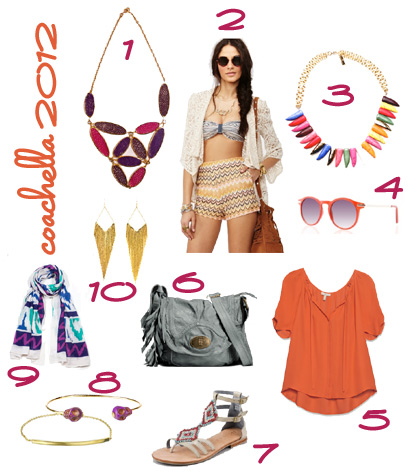 The bands, the babes, Coachella has it all! Let's hope week 2's weather is a little less unpredictable. What's on your packing list for this year's Coachella festival? Here is some inspiration to help you ring in the second week:
Start with: [1] A bold statement necklace works with an outfit. The Harper Polished Stingray Bib Necklace ($330) and [3] Colorful Horn Necklace ($245); both by designer Robyn Brooks, who has worked with top designers like Michael Kors, and Manolo Blahnik. Colorful accessories keep things bright.
[2] Love, love, love this entire outfit. When the weather heats up, layer a light cardigan over a bikini top, like the Davia Bikini ($158). Then add some printed shorts, such as Nasty Gal's Ziggy Knit Shorts ($48), some flats and sunnies and you are set.
Speaking of sunnies, how about a pop of red? [4] Quay Eyewear has tons of styles for only $39.95. You can have a new pair for each day of your Coachella trip!
[5] A slouchy, silky top is a must-have festival item. Joie has you covered with tons of styles to choose from. Personally, I am a fan of the Berkeley Top ($188) in tomato red. So good with short shorts or tucked into a flowy maxi skirt.
[6] No festival outfit is complete without a cross-body bag. Add some fringe and you are completely on-trend with that laid-back style. George Gina & Lucy's Don't Stop bag is made from soft, slouchy leather and perfect for stowing all your essentials plus a water bottle, camera, lightweight cardigan, sunglasses, and more. You will want comfortable (yet stylish) shoes. [7] Cocobelle's flat sandals (Around $123) are super chic, and have a boho-luxe feel.
Pile on a few Jules Smith bangles for a chic arm party. The [8] Marsha Bracelet ($50) and the See You at the Souk Skull Cuff ($55) are two of my favorites. [9] Stay warm in the Echo Design Navajo Scarf ($67.50) available at ChicTweak.com. [10] Complete your entire look with some sexy gold shoulder-dusters, aptly named Coachella Earrings ($95).
What is on your packing list for Coachella?