From our friends at The Find: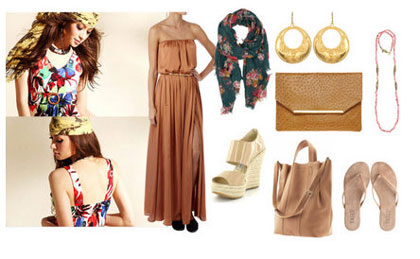 Who's going to Hawaii for the Holidays? I have a girlfriend who is and she needed a little help picking out a few things to pack for her week long extravaganza in the sun. So, I gathered up my fashion knowledge and decided to dedicate an article to help her, and all of the other ladies headed to sunny and snow-free pastures, out a little on the What-to-Wear department. So, heads up first, I'm a firm-believer in packing light. I hate lugging heavy loads of clothing just for the option to wear them and though I don't travel a lot, I've traveled enough to know this: Don't wear new clothes on a trip, always bring old faithfuls or clothes that you have already tried a few days beforehand in order to avoid wardrobe malfunctions or packers remorse. You don't want those heels to cut the back of your ankles during a sightseeing tour or having to keep pulling up that "you thought was just the right size" dress every nanosecond it slips as you try to get to know friendly locals. Here are my picks for a sunshine-y getaway:
Two Pieces of Statement Jewelry: Whatever fits your fancy. I like to bring a big pair of earrings (for those dinners that just call for statement making accessories) and a layerable necklace that could be worn long or short. We love Alexis Bittar!
An Elegant Maxi Dress: Preferably in a solid color. It makes for amazing dressing up or down. Plus, a maxi dress can be worn day or night. Its versatility, and comfort, is endless.
A Pair of Heels/Wedges: On those nights or days you'll need a little more height and sultriness. You can't go wrong with a sophisticated and comfortable pair.
Flip Flops: For your lounging around days on the beach and to wear as slippers around the hotel room if they aren't provided.
A Printed Linen Scarf: It's a good thing to have and wear for when the night breeze comes in or around your head for that ultimate boho-style head protection.
A Clutch: For those evenings out at an event or on a hot date.
A Tote: For the days when you are out shopping and being all touristy. We love the Banana Republic Kristin Tote.
– Mira Torres