With the holiday's all abuzz, work in full-force, kids as busy as ever, oh and a husband with a cold (you know how that goes ladies), I can't help but wish for a little getaway to somewhere serene and sunny. These picks by iPANEMA and George Gina & Lucy are all the inspiration I need to take my mind from overwhelmed to completely relaxed.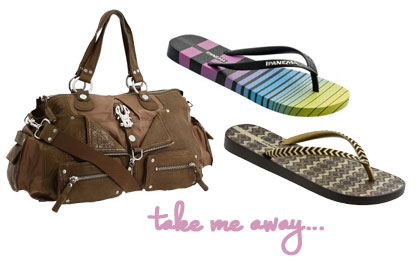 Above: iPANEMA flip flops (around $25) are the perfect packable sandal. Available in tons of adorable patterns, these were made for a relaxing day at the beach.
George Gina & Lucy bags are known for style and functionality. Their Apt Hours Bag ($469) is complete with a multitude of pockets to keep you organized on the go. Be sure to check out their other styles to find the one perfect for your weekend-getaway.
What are your getaway must-haves?