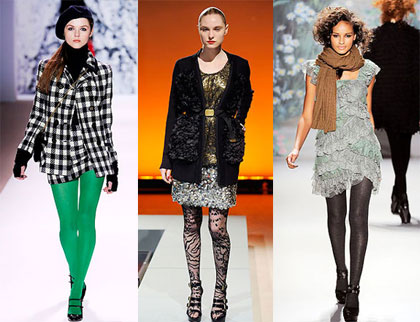 *Fall 2010 RTW from Milly, Vivienne Tam and Tracy Reese (images from Style.com)*
Tights are such a fun and easy way to squeeze a little more life out of summer's dresses and skirts. With tights being at the top of Fall's trend list, many designers have taken a detour from basic black, and offer hosiery options in various colors, patterns and textures. The best part about tights is that they are an inexpensive way to add versatility to your wardrobe.
Here are a few ways to wear three of this season's hottest tight trends:
Solid Colors: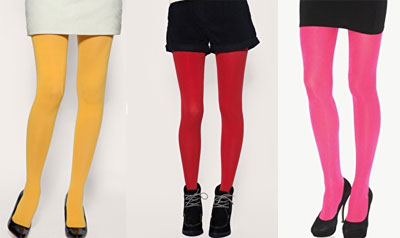 *Solids are the go-to style for any outfit. They look great when the rest of your outfit is patterned or of a contrasting color. We Love Colors offers a huge selection of microfiber solid color tights (51 colors to choose from!)
*Asos.com's US site also has a nice selection of solid opaque tights for around $8. (pictured above)
*When wearing solid color tights, opt for opaque versus sheer, to give legs a slimmer look.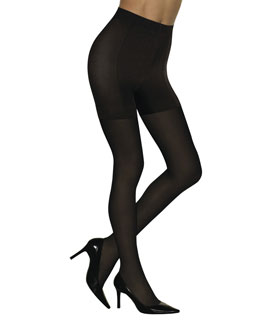 *Let your leg wear do double duty by going for a pair that slims legs and has a tummy control panel. L'eggs Profiles Tummy Toner w/ Anti-Cellulite tights smooth and shape.
Lace: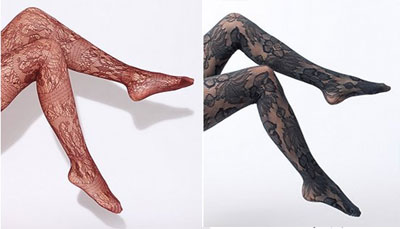 *Lace was all over the fall runways. Lace tights look great with solid color dresses and skirts, but the lace on lace trend is hot right now, so don't be afraid to wear them with another lace piece on top.
*Lace can be expensive, but it doesn't have to be. Check out places like Forever21.com and H&M for inexpensive options.
*Since lace is feminine, try wearing something unstructured and masculine with lace tights. A boxy boyfriend jacket with a mini skirt and lace tights looks great, as do a pair of moto-boots.
*See by Chloé's Sheer net tights ($28) are on sale at the TheOutNet.com and are a lovely footless pair of lace tights.
*Pictured above, the open crochet tights are fun in a pop of red. As are these pretty Tuscan floral tights. Both $14.
Sweater: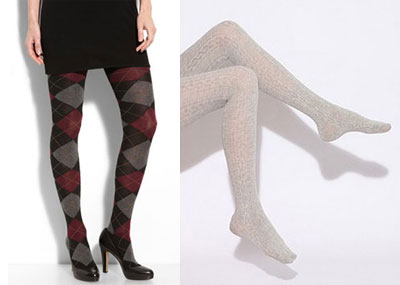 *For extra warmth, go for a pair of sweater tights.
*Because they are thicker and wear more like a legging, you can wear them with a mini-skirt or even shorts and still feel covered up.
*Hue's Argyle Sweater tights ($18) have a preppy, collegiate print that's unexpected and looks super cute paired with booties. *Urban Outfitters also has some soft cable knit sweater tights in great basic colors. ($18)
What do you think? What are some of your favorite ways to wear tights? Let us know in the comments or send us a tweet!