From our Beauty & Style Editor, Theresa Johnston
I adore delicate, whimsical jewelry so when I stumbled on Olive Yew Jewelry this week, I fell totally and completely in love. Olive Yew necklaces, earrings, rings, and bracelets are handcrafted with filled gold and rose gold, sterling silver, and chrysoprase and chalcedony stones. The designs are dainty and fanciful with a quirky modern edge. They look fabulous alone or layered, and the prices are wonderfully inexpensive. Check out some of my favorites: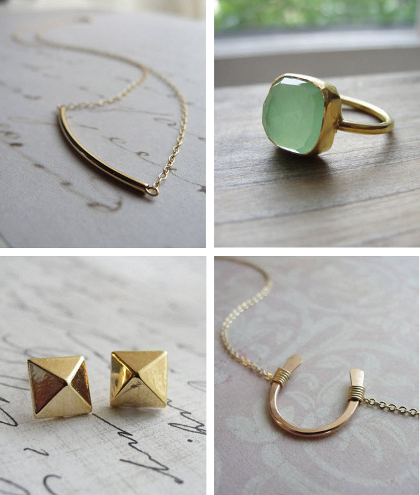 Clockwise from left to right: curved bar gold necklace ($25); chrysoprase ring ($60); rose gold horseshoe necklace ($50); square gold pyramid stud earrings ($26).
Available at OliveYew.com.