For years, I've gone back and forth between using all-natural and mainstream (full of chemicals) deodorants. You've probably seen the articles on scary links between deodorants with aluminum to diseases like cancer. The harsh ingredients normally found in deodorant (including aluminum, propylene glycol and parabens) absorb easily into thin underarm skin potentially seeping directly into the lymphatic system. (A healthy lymphatic system is essential to your immunity). I love the idea of using product with natural ingredients, especially when it comes to delicate skin areas. But the reality is many natural deodorants on the market have a tendency to fizzle when it comes to fighting odor and sweat.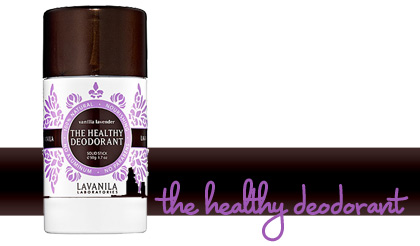 So what can you do?
When I learned about
Lavanila Laboratories Healthy Deodorant
, I was intrigued, and skeptical. Was this just another natural deodorant that was sticky and unscented? But, being someone who has searched for effective natural beauty products for years, I definitely wanted to try it.
Lavanila Laboratories The Healthy Deodorant is not only made with natural ingredients, it actually delivers odor protection and keeps you dry. Choose from several signature essential oil blended scents. Anti-oxidant packed beta-glucan technology conditions, soothes and nourishes skin, all while fighting odor. I've found a healthy deodorant that really works, and am happy to no longer need mainstream brands.
$10 each. For more information and to shop, visit: Lavanila.com and find all the luscious scents here.