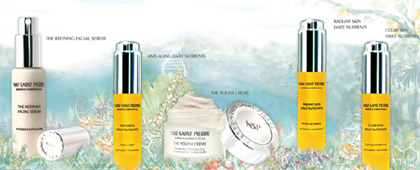 Let's face it. None of us are getting any younger. But there are things we can do to keep skin youthful. I haven't gone the botox route, and don't plan to. But I did learn about a line of botanical cosmeceuticals by Niki Saint Pierre that promises to reverse the visible signs of aging. I was able to try out a few items from the line to see what I thought.
The first thing that caught my attention was the fact that Niki Saint Pierre uses 100% active ingredients, vs. traditional serums that use more coloring and inactive ingredients. Each nightime oil works with the skin's natural renewal process overnight. Oils from the Daily Nutrients Collection offer anti-aging properties that help reverse the effects of stress, UV damage and toxin exposure. There is also a Radiant Skin Daily Nutrients formula that helps keep skin refreshed and vitalized, great for exhausted working moms like me!
And the collection also contains the Clear Skin Daily Nutrients which is ideal for my breakout-prone skin. The nightime dry oil detoxifies, brightens and firms skin while you sleep. (Quite frankly, any beauty product that works while you sleep is pure genious to me!)
Products in the Niki Saint Pierre collection range from $85-$175. All products are free of parabens, mineral oil, synthetic fragrances and coloring. For more information and to shop online, visit NikiSaintPierre.com.