New Years is right around the corner, and one of my resolutions is to keep my hair healthier in 2013. Monthly color and daily heat treatments can leave hair dull, lackluster, and in need of some TLC.
Philip Kingsley, known as a hair guru in the beauty industry, has developed a line of products designed for specific hair types. Depending on your hair texture, length and existing processing damage, you can select from a set of products that fit your hair type.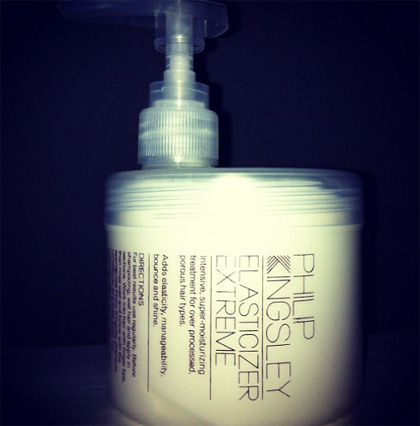 Philip Kingsley Elasticizer Pre Shampoo Treatment ($47) is a magical multi-product, that leaves hair conditioned, protected and gorgeous. First formulated for the lovely Audrey Hepburn herself, the Elasticizer as won multiple awards and is beloved by celebrities and plain-janes alike.
Given that I color my hair multiple times per year, I know it is not at it's best. I also use heat styling products on a daily basis, only wreaking more havoc to my already fragile strands. I was sent the Elasticizer Extreme to try out, and have been using it weekly ever sense. (I did stop using it for 3 days before and 3 days after a recent partial foil, as the product recommends). Before shampooing, I simply dampen hair, arrange it in sections, and work the elasticizer in. I leave it in for about 20 minutes with my hair up in a shower cap. Face mask time! Then I hop in the shower, rinse thouroughly, and follow up with my regular shampoo and conditioner.
Speaking of shampoo…Philip Kingsley Pure Silver Shampoo ($23) is awesome for blonde hair. The formula is designed to brighten silver hair, and since it contains violet hues, it counteracts the brassiness and dullness that can come with blonde/bleached haircolor.
I also really like their Philip Kingsley Moisture Balancing Shampoo ($23) as an extra moisture boost during the week. I love mixing up my routine and switching shampoos and conditioners is a great way to do that.
For more info on Philip Kingsley and to shop products, visit PhilipKingley.com. Also learn more on their blog.