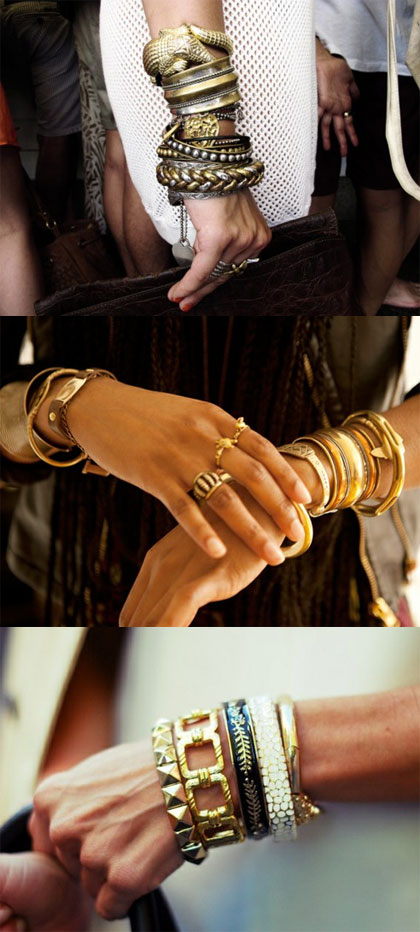 *Images from Pinterest: here, here and here*
Stacks of bangles are a huge trend this season. The more the merrier when it comes to "arm candy"! I love to layer on a bunch at once. Add a big watch and some chunky rings and you are set. There are a few ways to wear the trend – You can go for a streamlined look with a stack of thin gold bangles, or mix and match for a more textured look. Here are a few options:
1) Worn alone or stacked among a sea of thick and thin bangles, the House of Harlow 1960 Peacock Bangle ($73) features luxe detailing and a touch of whimsy.
2) One of my personal faves, I had the opportunity to try this set thanks to Style Tyrst, and I have to say I love it. Available with black and citrine crystals, the three bangle Style Tyrst Crystal Bracelet Set is truly versatile. The bracelets can be worn with both casual and dressy looks. And the touch of crystal sparkle adds a little something to any outfit. Plus, it's on sale for $46, making it a bargain.
3) You know my love of Rose Gold jewelry, and the Perforated Bagle Set by Jules Smith ($110) is no exception. I love it with other rose gold pieces, but don't be afraid to pile it on with other metals.
4) You know what they say, "go big or go home". In other words, if you're going to rock the trend, you might as well go all out. The Amrita Singh Amarya Bangle Set in Multi ($175) is a great choice for a unified stack of mixed-metal bangles.
Update! PinkMascara.com has graciously offered a 20% off coupon for Skinnypurse.com readers! Simply enter SKINNY20 at checkout. Good through: 11/30/2011. (Brand exclusions: J Brand, Current/Elliott, Hunter, Frye, Weitzman, Ugg, Fiorentini + Baker, Jennifer Zeuner, Mona Taner & RomyGold)
What do you think of the stacked bangle trend?