From our friends at The Find: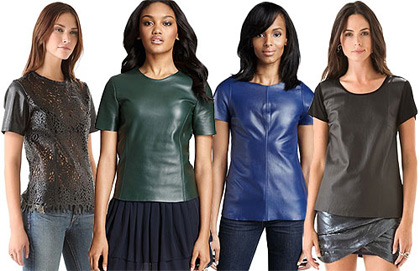 Aside from the obvious leather go-tos like boots and handbags, leather is quickly becoming an apparel staple, from moto jackets in all sorts of styles and colors to leather-coated denim, shorts, and more. Unfortunately, despite leather's proven versatility, not everyone has the guts to rock a pair of leather pants, no matter how many trend-setters successfully make it look cool. But what about a leather t-shirt? Yes, it's true – leather isn't just for rockstars anymore, and it's starting to invade even our most favorite comfy-casual wardrobe staple, the classic tee. But these aren't just regular t-shirts. Pair them with your favorite jeans and you no longer feel underdressed – these leather tees are statement-makers all their own. Mix textures with contrasting fabrics or laser-cut details, or color-coordinate by taking your pick from an array of fall-festive colored leather tees! Sure, they may not be as flexible as your worn-in cotton versions, but the decrease in comfort is well worth the instant style upgrade!
From left to right: Winter Kate Laser Cut Leather Top, Sachin + Babi Barcelona Leather Top, Patterson J. Kincaid Rosemont Leather Tee, and StyleStalker Serge Tee.
– Alexandra Gambardella