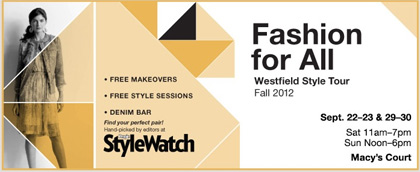 Style-expert Stacy London kicked off the Westfield Style Tour today, where she and her team of Style for Hire stylists gave free consultations to shoppers.
"I am hitting the road to visit Westfield shopping centers across the country," says Stacy London. "Together with my awesome team of fashion stylists from Style for Hire, we not only will introduce the season's hottest trends, but also help Westfield shoppers find the must-have pieces that best match their own personal tastes and needs. Ultimately, our goal is to demystify the styling process, teach Westfield shoppers how to map out a smart shopping strategy— and of course— share tons of great merchandise tips along the way."
The style tour continues on Sunday, September 23rd, and the following weekend (9/29 – 9/30). Head over to Southcenter Mall for your opportunity to meet with Stacy London-trained stylists helping customers find looks that work for their body type, age and price point. For more information on the Style Tour and to schedule a consultation, visit: Westfield.com. For more information Style for Hire, and Stacy's team of stylists visit: Styleforhire.com.