From our friends at The Find: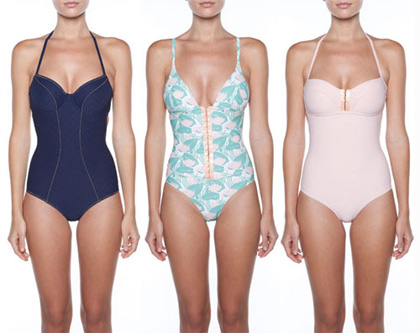 In this day and age, barely-there bikinis always reign supreme over most other swimsuit styles, no matter how many new designs attempt to reinvent the poolside standard. But in a fashion world that embraces updated takes on retro styles, shouldn't there be more room for fabulous one-pieces to shine? Lilibon Swimwear certainly thinks so, which is why they've made a special focus on the single-piece suit in their latest series of swimwear, the Afternoon Collection. Inspired by 1940s pin-ups (an image that's still sexy, no matter what the decade!), Lilibon seeks to reinvent what's sexy in swimwear with retro-inspired silhouettes. The Afternoon Collection specifically channels the mythological mermaid, incorporating sleek sea-inspired prints, corset detailing, an all-over scallop texture, and gold tonal stitching for a pretty sun-reflective sheen. And just because you're showing less skin doesn't mean you're any less sultry – the plunging necklines and bustier-enhanced silhouettes will have all your fellow beachgoers' eyes on you!
From left to right: The Rebecca in Navy Blue, The Marie in Water Lily, and The Sasha in Blush.
– Alexandra Gambardella