Last week the stars came out to view the launch of the Marni at H&M collection. Drew Barrymore, Winona Ryder, Milla Jovovich and many were there to celebrate the launch. Hosted by Marni's Founder and Creative Director, Consuelo Castiglioni, the Director of the Marni at H&M campaign, Sofia Coppola, and Margareta van den Bosch, H&M´s Creative Advisor. Guests who donned clothes from the collection included Drew, Winona and Milla, Jessica Chastain, Freida Pinto and Andrea Riseborough.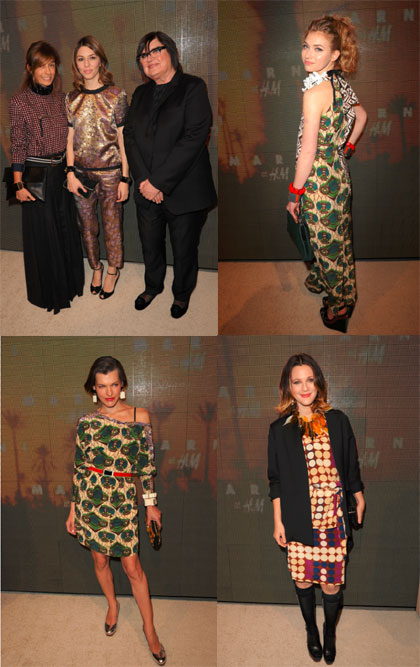 Clockwise from top left: Sofia Coppola, Consuelo Castiglioni, and Margareta van den Bosch (Creative Director at H&M.); Jessica Chastain; Drew Barrymore; and Milla Jovovich. Photos by Jason Merritt
The highly anticipated collection will be available from March 8 in around 260 stores worldwide, as well as online.
This video captures guests reactions about the sophisticated, eclectic collection. In true signature Marni style, bright prints are a theme in the collection – just in time for Spring. While keeping a feminine aesthetic, menswear-inspired pieces do make their way into the collection. A full-range of shoes, bags, accessories and even menswear will be available.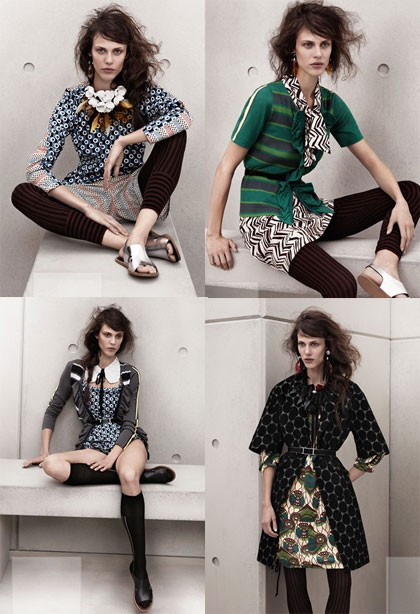 "It has been an inspiring night, surrounded by a perfect setting and a great crowd. LA encapsulated the dream! It is not long before Marni at H&M is in the stores, and I am happy to share these magic moments with everybody." – Consuelo Castiglioni, Founder and Creative Director, Marni
"It's nice to see again the people I worked with on the project for Marni and H&M. With the film I just tried to do something that fitted with the mood of the collection, the fantasy and the fun of fashion." – Sofia Coppola
I've always been a huge fan of Sofia Coppola, ever since her directorial debut of The Virgin Suicides. I think I had that soundtrack on repeat for the entire year of 1999. I was excited to learn that she directed the Marni at H&M campaign.
View the entire collection here.