Here is the latest submission in our Mother of Style feature. Donne Davis, creator of The GaGa Sisterhood®, a site "where Grandmas Bond, Brag, and Benefit".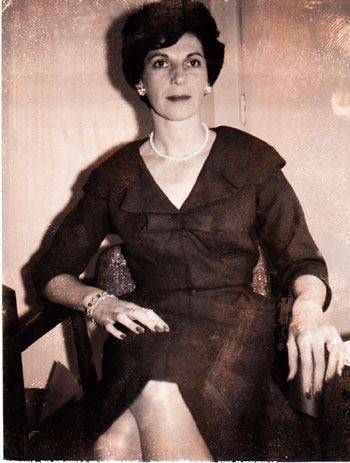 Donne sent in a photo of her mother, Julie, which was taken in Mexico while on vacation in 1960. My favorite thing about this photo is Julie's beautiful expression. A lovely woman with a clear sense of style, dressed perhaps for dinner out?
This look inspired a more formal outfit, consisting of a portrait collar dress, vintage jewel earrings, dark polish and a bow-detailed bag.
Dress: Eliza J Surplice Front Shirtdress ($118)
Nail Color: Deborah Lippmann Nail Color in Just Walk Away Renee ($16)
Earrings: Vintage Earrings 65.10 ($130)
Bracelet: Monet Thursday Night Fever Glam Bracelet ($78.00). Plus get free shipping with purchases of $50 or more with code Fever50 at checkout!
Bag: Kate Spade New York Skipper Nylon Mini Bag ($155)
Do you have a photo of your stylish mother that you would like to share?
We would love to see it! Please email submissions to info@skinnypurse.com, with a 72dpi image attached. Please include your name, name of your blog or website (if applicable), and photo caption. We'll post submissions on a weekly basis and if yours is chosen, we'll include a link back to your blog or website.
Your submission will also get you automatically entered to win a special treat – winner chosen on Mother's Day (Sunday, May 8th, 2011).