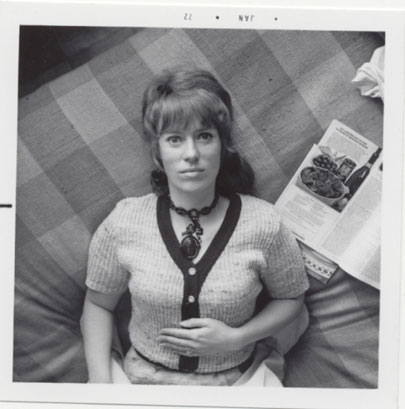 I love pouring over old family photos. There is something about looking at old photos of my mother that bring up so many questions. What was she like before she had kids? Before she met my dad? What were her passions and hobbies? But most of all, I love looking at the fashion from years past.
For months, I've been following Lucky Magazine's "My Mom the Style Icon" – and always love to see the reader submissions. Also, Urban Outfitters did this awhile back. So, I thought it would be fun to do a similar feature here. Below are a few photos of my mom from the 60s and 70s, and a couple of ideas on how to get similar, modernized looks today.
Mother of Style is going to be a regular feature on Skinnypurse.com! Do you have a photo of your stylish mother that you would like to share?
Please email submissions to info@skinnypurse.com, with a 72dpi image attached. Please include your name, name of your blog or website (if applicable), and photo caption. We'll post submissions on a weekly basis and if yours is chosen, we'll include a link back to your blog or website.
Your submission will also get you automatically entered to win a special treat – winner chosen on Mother's Day (Sunday, May 8th, 2011).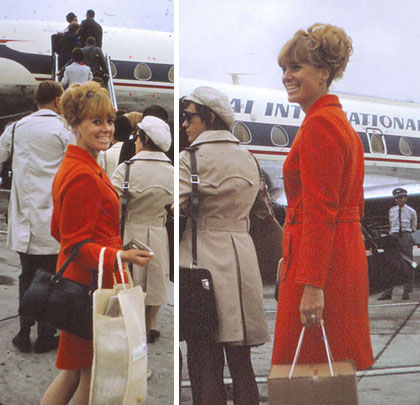 *1969 Boarding Plane to Hong Kong*
Travel in style with a rich red top coat. It will pull any outfit together. Love the Kenneth Cole New York Melton Wool Coat ($198). A black leather handbag, such as the Kate Spade Leslie Foldover Top Handle Bag ($425) holds all your travel essentials. White nail polish is a bit too 1960 – modernize it with a pearlized champagne, like Nars Nail Polish in Versailles ($17).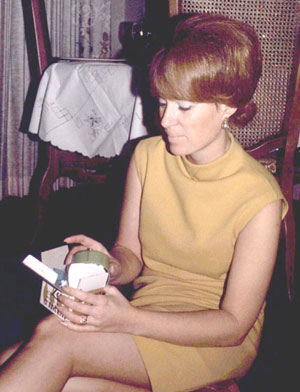 *Top: Summer 1969, bottom: Christmas 1968*
Always in style, a bold-hued sheath dress is the perfect "ladies who lunch" look. In bright turquoise, the Elie Tahari Emory Woven Shoulders Sheath Dress ($398) is simple yet classic. While Milly's Deni Trevi Tropical Wool Blend Dress ($425) has color blocking and a belt as added details. With these dresses, keep accessories simple. A locket on a long gold chain, such as the House of Harlow 1960 Gold Medallion Locket Necklace ($75) works well. Finish with delicate earring, like these Calico Juno Ivory and Gold Hoops ($42) for a completely ladylike look.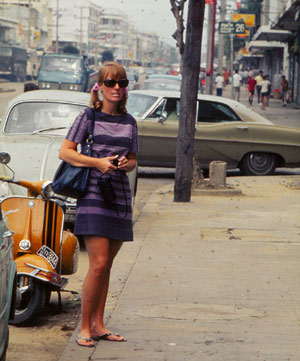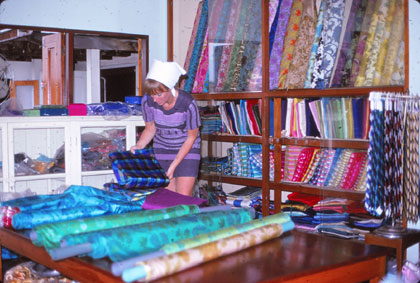 *Top: Bangkok, Thailand 1969, Bottom: Picking out Thai silk at a fabric store*
Keep things casual for shopping and sightseeing. This purple Parlian Dress by Diane Von Furstenberg ($345) goes effortlessly from the beach to the open market. Rebecca Minkoff's Nikki Hobo ($495) is slouchy and laid back. Add a pair of big black sunglasses, such as the House of Harlow 1960 Carey Sunglasses ($125). And finish the look with flat sandals. The Sam Edelman Ginger Sandals ($100) have some bohemian luxe detailing.