Once again the stars dazzled at the 2011 Academy Awards. Topping the trend list: Bold Color, Column Style and Architectural Cutouts! Glitz and glamour once again had their moment. Here were some of our faves:
TREND 1: The Color Purple: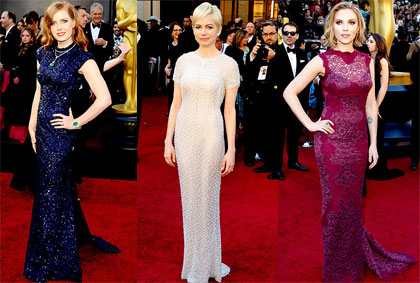 Mila Kunis, Cate Blanchett and Natalie Portman looked lovely in their lavender-hued frocks. Purple is such a bold yet feminine color, flattering on just about everyone! On Kunis and Portman, the looks were romantic and flowing. Kunis wore Elie Saab Haute Couture with plenty of peek-a-boo lace placement. Portman's baby-bump was perfectly pronounced in her Rodarte and Swarovski crystal gown – she epitomized a glowing mama-to-be. While on Blanchett, the pale purple color was made more modern in her Givenchy Haute Couture gown. The yellow beaded accents gave the whole look an artistic appeal. In this trio, I personally loved the dress Mila Kunis wore – divine.
TREND 2: Column Dresses: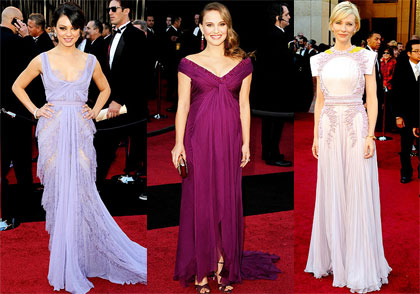 Stars like Amy Adams, Michelle Williams and Scarlett Johansson screamed screen siren in body-hugging silhouettes. The long, lean lines of a column dress has the ability to convey instant glamour. Best Supporting Actress nominee Amy Adams, dazzled in her blueish-purple L'Wren Scott cap-sleeved gown. While all-over sparkle may seem over-the-top, it totally worked on her. This was one of my favorite looks of the evening. Love how she accessorized with a pendant necklace. Michelle Williams' sported old-world glamour in her pale short sleeved Chanel Haute Couture gown, perfectly complimenting her short locks. Scarlett Johansson looked sultry in her burgundy Dolce & Gabbana gown. The fact that it was backless and allover lace was just icing on the cake.
TREND 3: Architectural Cutouts: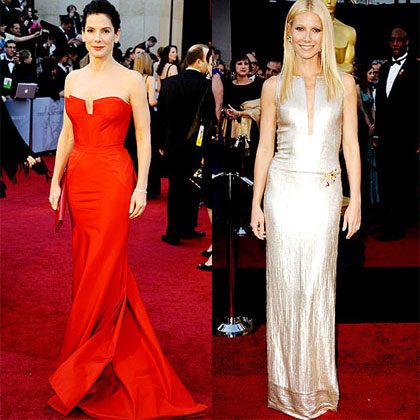 Two other dresses stood out from the crowd in the best possible way. Sandra Bullock and Gwyneth Paltrow both sported gorgeous gowns with amazing architectural cutouts. Both very different dresses. Sandra's lipstick red Vera Wang dress fit her impeccably and looked so gorgeous paired with her red lip. Gwyneth's metallic Calvin Klein Collection gown offered up just the right amount of shine. Her colorful Louis Vuitton gemstone jewelry paired perfectly.
What were your favorite looks from the 2011 Oscars?
*Images from People Style Watch*