The much-anticipated Nordstrom Anniversary Sale 2015 is upon us and I had the joy of perusing the merchandise at the Presale Event that was held as a courtesy to cardholders and loyal customers prior to the sale beginning to the public on July 17, 2015.  This is a favorite sale of mine because it is the perfect opportunity to start building on my current wardrobe with new fall trends and a fresh outlook. Here are some of my favorite pieces from this year's Anniversary Sale: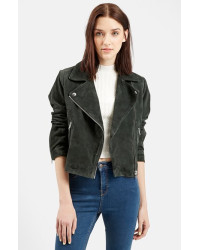 Topshop Suede "Caddy" Jacket
Suede is major this fall and this Topshop Caddy Jacket is a knockout piece. It is on point with its cropped moto style, and the gorgeous deep green suede color is a perfect compliment to the lush fall color palate. Topshop does an excellent job on this jacket, with great details and a luxurious look to it. Wear it with leather pants; tossed over a dark floral dress or your favorite denim, this one's a keeper.
Sale price: $236.90, after sale: $360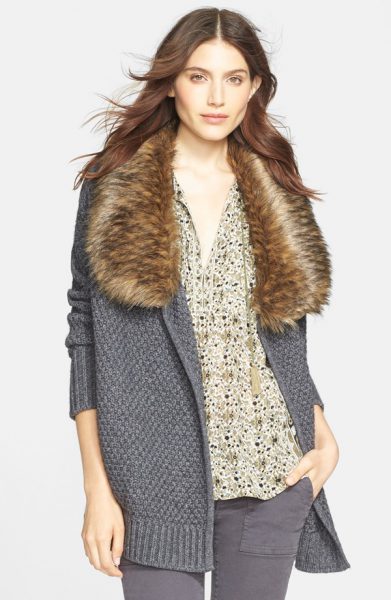 Joie "Jamilee C" Faux Fur Collar Wool Cardigan
This isn't just another grandpa style cardigan, not that there is anything wrong with that. I love gray sweaters so much my friends have threatened to stage an intervention, but the Joie 'Jamilee C' Cardigan is a stand out piece. Both incredibly soft and sophisticated, with the best faux collar I have ever encountered and perfect oversized glamour. It would be gorgeous paired with knits, sequins, or suede. I might even throw mine on with my favorite pair of flannel pjs. No judging.
Sale price $329.90, after sale, $498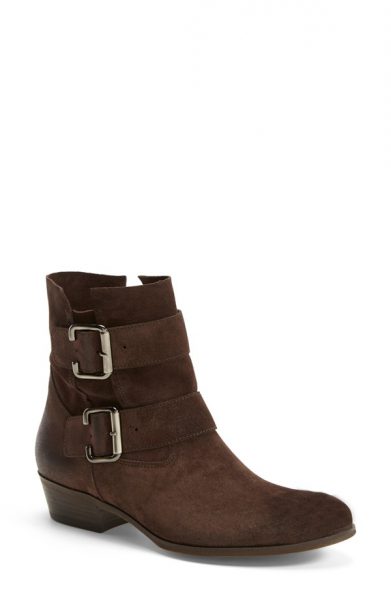 Paul Green "Denver" Belted Biker Boot
If you are looking for a stylish bootie for this fall, this sale is the perfect chance to get a great pair. Paul Green makes awesome boots, and this "Denver" pair comes in two great basic not so basic colors: a black leather combo and a cognac colored suede. The black is a must-have closet staple these days, and the slightly distressed coffee color that won't make you fear a few raindrops. Either way, this boot is a winner. I say get them both.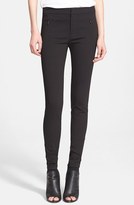 Vince Riding Pants
While the debate rages on as to whether skinny jeans are in or out this year, one thing is for certain, a perfect pair of riding pants will never go out of style. These Vince Riding Pants are a favorite of mine because of the thick fabric, essential in a pair of fitted pants because you don't want them to grow baggy on you as the day progresses. And nothing looks more chic than a pair of riding pants tucked into gorgeous boots. I think this pair would be amazing with one of this fall's Edwardian looking blouses.
Sale price: $156.90, after sale: $235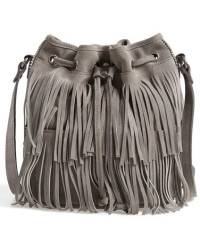 Patricia Nash "Bronte" Suede Fringe Handbag
The suede element again, paired with another trend that continues into fall, fringe. This Patricia Nash 'Bronte' Fringe Suede Bag comes in an elegant gray, which I love (see sweater above) and it's sweet bucket shape is perfectly on point. From its cool boho element to its roomy shape and great aesthetic, this bag gives you a lot of bang for your buck. Swing it over your shoulder or carry it as a cross body when you are on the go.
Sale price: $132.90, after sale $199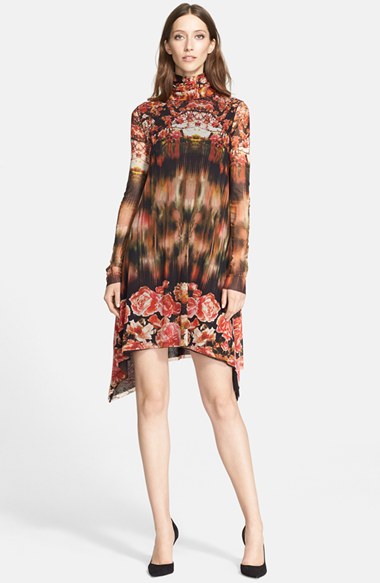 Jean Paul Gaultier Print Turtleneck Tulle Trapeze Dress
Finding a great dress is always a little like winning the lottery. A flattering fit, great silhouette and beautiful fabric are the key to this what makes a dress not just work, but be amazing. This Jean Paul Gaultier dress touches on the high neck Edwardian look for fall, and the blurred print details of the fabric are killer. I love handkerchief hems as well, which just brings the cool factor up another notch. Beautiful.
Sale price: $499, after sale, $725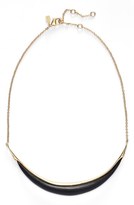 Alexis Bittar Lucite Crescent Bib Necklace
Trendy jewelry can be very fun—I call it the "cheap thrill", but it is also worth your time to invest in statement pieces that will stand the test of time. Alexis Bittar jewelry has the distinct look of chic pieces you know you will love forever, but are far from boring. This Alexis Bittar Lucite Crescent Bib Necklace has style that is chic and beautiful and adds a point of view that is perfectly modern. Winner!
Sale price: $102.90, sale price, $155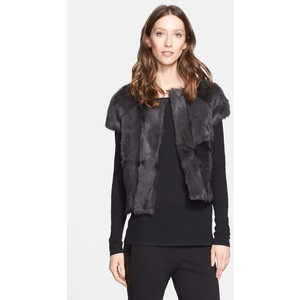 Pologeorgis Rabbit Fur Vest
The combination of fur and leather make up this contemporary vest in a deep graphite color. Unlike some fur vests that can swallow you up with volume, the Pologeorgis Rabbit Fur Vest has a cropped boxy shape that flatters, and I am love with the cap sleeves. It's a luxurious way to layer for cool weather.
Sale price: $549, after sale $995
Shop the Nordstrom Anniversary Sale 2015 online and in stores through August 2, 2015.