There is something about the transition in weather that makes me crave change. Much like spring cleaning, fall makes me want to clear out the old, rearrange furniture and get some new pieces as well. In particular, I'm feeling like my office space could use a little refresh. I've been staring at the same picture frames and paperweight for ages. Perhaps a new sitting area, with a loveseat and end table; or maybe some new lighting or art on the wall?
Here are a few items inspiring me right now: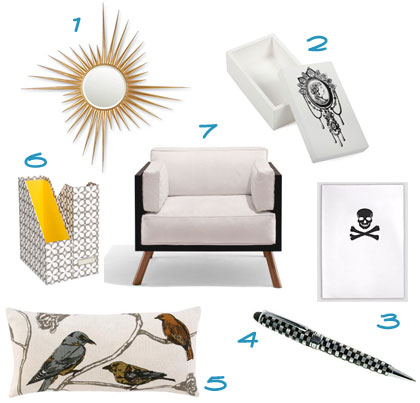 1) I've been wanting a starburst mirror for awhile now. There is a perfect blank wall in front of my desk that is begging for one. But, they can be spendy, so I've been scouring some of the sample sale sites like One Kings Lane for a good deal. I have my eye on the "A Star is Born Mirror" that is on the site now.
2) Curio boxes are perfect for storing odds and ends like stamps, paperclips and rubberbands. I found a few good ones at Burke Décor, including this lacquered version by Thomas Paul. I love how it gives a nod to the olden days with it's vintage brooch decoration, yet looks modern when accessorizing a desk.
3) There is something so spooky and cool about skulls. This leather bound skull notebook by Assouline has an air of mystery and is perfect for jotting down notes and to-do lists.
4) While I usually grab whatever writing implement that is on hand (i.e.: bic pen, nubby pencil or daughters crayon), I've always thought it sophisticated to write with a luxurious pen. This pretty mother-of-pearl pen would do the trick.
5) Dwell Studio has such great prints – I always check them out for bedding and table linens. The bird motif on this pillow is so pretty, and the long style would work well on a sofa or comfy chair.
6) The Container Store is a definite go-to when decorating any office. They have a great selection of chic looking paper and magazine storage containers. I always have tons of magazines stacked up on my desk, and these magazine files would work well to rein them in.
7) Late-night brainstorming sessions call for a comfortable sitting chair. This one by Knoll is retro and modern at the same time. It would work well with any décor, and you could easily change up the look with a colorful pillow.
What about you? What are your must-have office accessories?