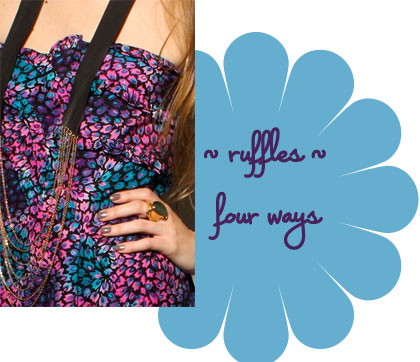 Pictured above: Small ruffles adorn the bodice of the Violet Ruffle Dress Luna by Josandra ($260)
Feminine, romantic ruffles are a staple of summer fashion. Whether you love over-the-top trimmings or subtle frills, there are different variations to the ruffle trend. These four mini-dresses are perfect for summer, each sporting ruffles in thier own way.
Pictured above:
1) Flutter Sleeves: The Ella Moss Eliza Dress ($158) has flutter sleeves and a keyhole back. A bright pink belt compliments the deep blue hue.
2) Cascading Ruffles: Rebecca Taylor's Everlasting Dress ($295) has cascading ruffles at it's v-neck for a sweet look. Washed silk and a drawstring waist keep things casual. Love the versatility of being able to wear the sleeves long or short. Everything pops in a gorgeous periwinkle shade.
3) Tiered Ruffles: For those who want their ruffles to less in-your-face, the Coincidence & Chance Shirtdress ($59) has two tiers of ruffles at the bottom of a sleeveless button down dress.
4) One-Shoulder: Channel your inner flamenco dancer with Nasty Gal's Ruffled Chambray Dress ($48). A one-shoulder style is super sexy, while the chambray fabric brings things down to earth.
Tell Us: What's your take on ruffles? Do you love them or hate them?