From our friends at The Find: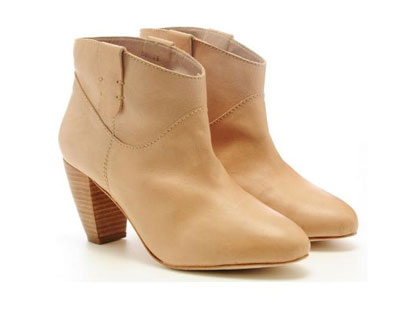 The options for platform wedges and gladiator sandals are still in full prospect but this summer, it doesn't look like western-inspired boots are going away. Though wearing boots in the sunshine and heat may seem like a bit of a challenge, ladies are still rocking their favorite pair with bare legs, floral frocks, and denim shorts. Pairing boots with your favorite feminine outfits, which you most likely might find yourself wearing with heels or wedges, is an unexpected, on-trend touch that is as fun as it is fashionable. It adds a little rebel and rocker edge to your spring and summer regular, with the added influence of a hint of country cowboy and Woodstock's hippie vibe. Want to try the summer boot trend out for yourself? I've got the perfect thing: Rebecca Minkoff's Doll Boot is the ideal investment boot that will transition your outfits effortlessly and with ease through all four seasons. The nude shade easily pairs itself with the most colorful complexity of summer dresses to the basic browns and blacks of a typical fall palette. You will definitely find yourself being one of the chicest girls around in Rebecca Minkoff's supple and simple construction.
– Mira Torres
CATALOGUE from TheFind is a new way to browse through all your favorite store catalogs in one easy-to-use iPad or Android app. CATALOGUE includes the latest catalogs in fashion, beauty, home and more! Download it here.