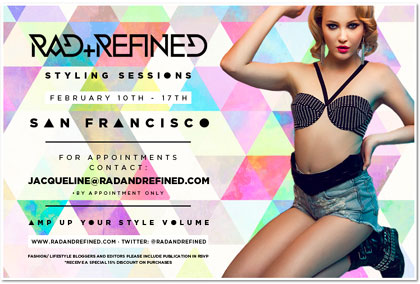 San Francisco fashionistas…
Just got word of a fun shopping event! Chic online store Rad and Refined is hosting a special styling session in San Francisco from February 10th-17th.
Guests will be able to privately shop the products sold on the online store to check them out in person. Meanwhile, Rad and Refined owner and stylist Jacqueline Rezak will provide a large amount of merchandise for guests to try on while getting input from an expert.
For futher details and to book an appointment, contact Jacqueline@RadandRefined.com.
Wish I was SF bound to check this out!