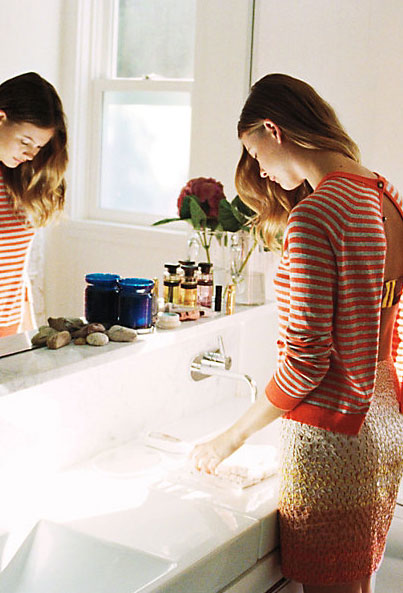 Above: Charlie & Robin Rearward Cardigan, $78
It never fails. Every time I go to Anthropologie I end up with an armful of clothes that I am in love with. This just happened the other day. After my
blowout at Swink Style Bar
, I headed over to Anthropologie to find a top to go with my new look. (Why not, right?) Anyway, as smart merchandisers would do, everything new and super cute in the store is in front. So, to get to the back sale section, you have to go through all the new stuff.
I am always looking for items that can be dressed up and down. Work-appropriate, but not too fussy. I grabbed a couple blouses and a few dresses. Here are a few of my favorite pieces currently in stores and online.
Pictured above, I got the Reaward Cardigan in orange and grey stripes. I laugh as I write this because I've been super inspired by backwards cardigans lately, and was excited to rock this. Sometimes it takes those closest to you to put you in check though… I was wearing this the other day with some skinny cords and tall boots, and my husband said "I hope you got a discount on that sweater because you are missing some buttons." What? I quickly made a comment about him not know what is in fashion but was secretly chagrined. I don't care though, I still like it!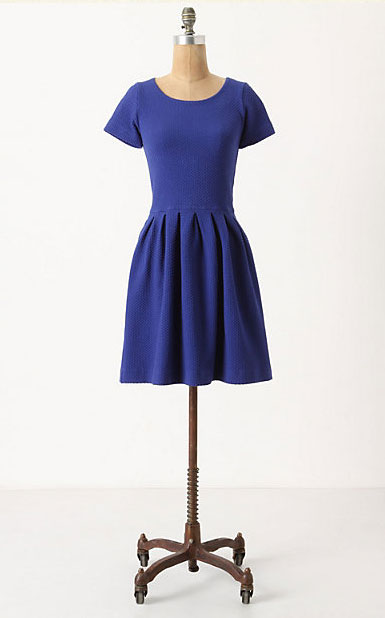 Above: Embossed Basket Dress, $168
I got this dress in blue for work, and it is one of my current faves. I love the structured fabric and feminine shape. I wear it with a chunky necklace patterned tights and simple black heels. You can easily dress this up or down with different belt and shoe choices. Also available in cream, green and a brown and cream combo.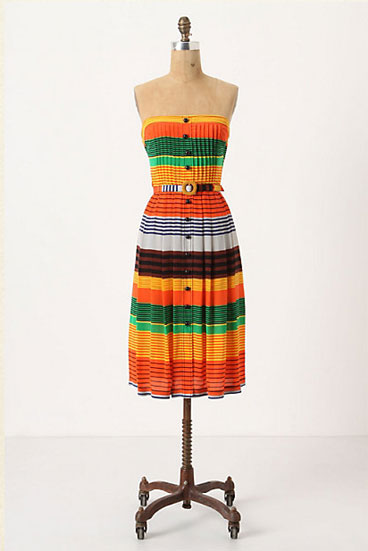 Above: Plenty by Tracy Reese Striped Stripes Dress, $198
This is one of those pieces that look so adorable on the hanger. It was styled with a
little cropped sweater
, which I bought. The colors of the dress are vibrant. It has black straps that can be removed to become a strapless dress. I thought it would be great with a pair of wedges for spring/summer. I loved it in the store and bought it, but ended up returning it after trying it on again at home. Just didn't really work with my body type, I wanted to love it but…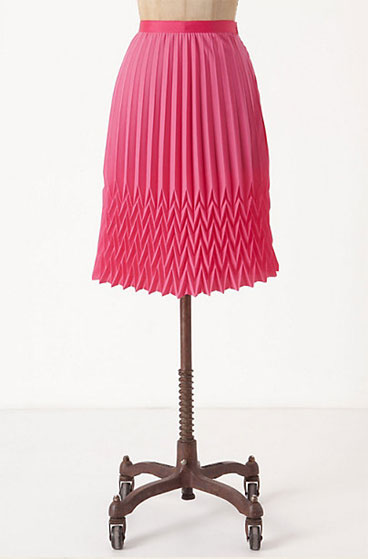 Above: Broken Pleats Skirt, $148
I've been on the lookout for
pleated skirts for Spring
and there were a few things about this one that caught my eye. 1) The color: A bright, hot pink, totally bubbly. 2) The pleats: different that your standard vertical pleats, this one has zig-zags. It was really stunning. I picture wearing this with a fuzzy angora sweater and pumps for a feminine look. You could also really have fun with colors – pair with other brights or neutrals.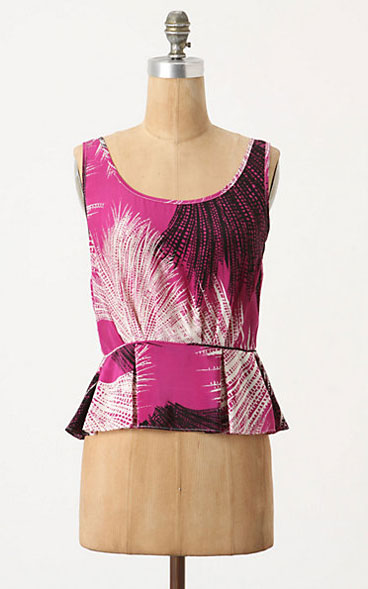 Above: Saria Carson Spindle Flower Tank, $88
Peplums are a big trend for spring, and I love how this blouse shows off the style. Available in two gorgeous prints, I chose the pink motif, the blouse has delicate buttons up the back. I've been wearing it with high-waisted, flare pants and heels, but it can really go with anything from skirts to jeans.
You got me again, Anthro.