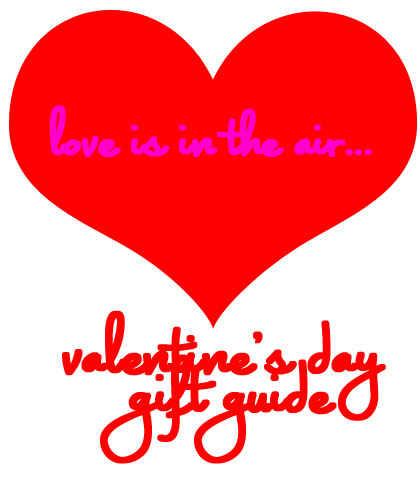 Hearts a flutter It's that time of year to show those special people how much we love them by showering them with jewels, bags and clothes…right? At least that's what I tell my husband. Here is my wishlist of items I'd love to be gifted for Valentine's day. What's on your wishlist?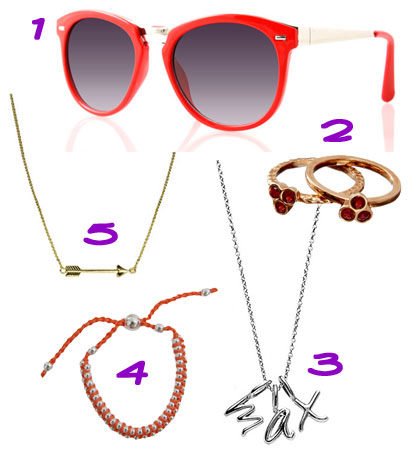 1) Every girl needs a pair of bright, retro shades. These red ones by Quay are the perfect pair to rock on V-day. ($39.95)
2, 3) Giant cocktail rings have their place, but there is something to be said for delicate little stacking rings. I love the look of a few placed on several fingers. The Portafortuna stacking rings by dalla nonna can be customized to your liking and make wonderful gifts. (From $180 each) Likewise, the dalla nonna little letter necklaces are sweet, personalized ways to show someone you care. I would love one initial for each of my kids' names. (From $110 per letter)
4) Friendship bracelets are the perfect way to tell your friend you love her. These ones by Kara Ackerman Designs are made from silver beads and can be mixed and matched for a fun look. ($35)
5) Cupid's arrow makes a sweet statement in gold. The Marrakesh cupid necklace ($50) by Jules Smith is a fun take on the trend.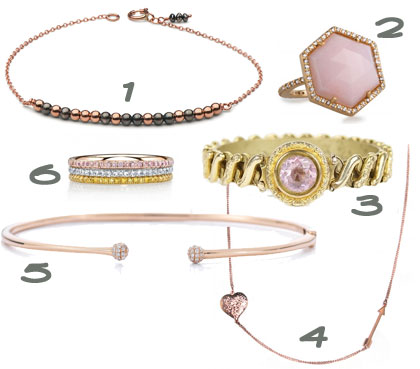 Here are a few splurge-worthy pieces…
1) Tell someone you love them in Morse code! The Skyler bracelet from OMERTA by Anthony Dreyer ($225) is made from an assortment of pearls and rose gold beads. Customize it to say anything you want. Great idea!
2) A gorgeous pale pink opal is cut into a hexagon shape and adorned with pave diamonds in the Halo Single Helix Ring by Caleo. (Call for pricing)
3) Vintage designs are so romantic and perfect for Valentine's Day. The Victorian Stretch Bangle ($276) by Lizzy Couture is a lovely piece to wear alone or stack with others.
4) Hearts and arrows are classic symbols of the holiday, why not wear the Textured Heart + Arrow Necklace ($95) in rose gold by Melinda Maria. A sweet sentiment.
5) A rose gold cuff is on trend and pretty in pink. The Sylvie Rose cuff by Dana Rebecca is set in 14k rose gold and features 0.24 carats of stunning diamonds. ($1,870)
6) Finally, for the ultimate splurge, Jean Dousset Diamonds Angelina bands (starting at $9,700) are handcrafted and fully customizable. Available in a set of 3.
For more Valentine's Day inspiration, check out our these past gift guides here, here and here. Happy Valentine's Day!