From our friends at The Find: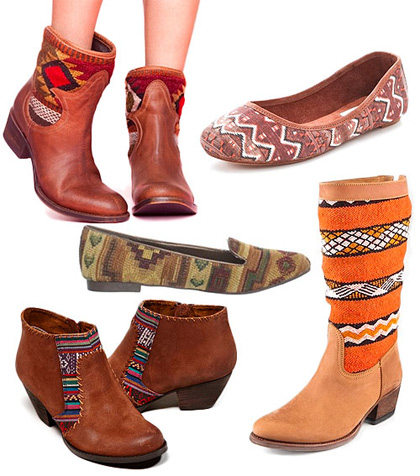 Western-inspired boots have been popular for quite awhile now, and they show no signs of losing their style stamina! Now, for the upcoming season, fall footwear in general (we're not just talkin' booties!) is taking a turn for the southwest with festive woven wool and tapestry details. There's something cozy yet effortlessly cool about these paneled boots and printed flats, and while they're not quite as edgy as spiky hardware and silver studs, they're the perfect way to keep the summer's obsession with prints, patterns, and vivid colors alive through the year's more dreary months ahead! Whether you're looking for a new pair of smoking flats, an on-trend pair of booties, or some stand-out knee-high boots, southwestern-inspired details are not to be ignored!
Pictured above: Freebird by Steven Caballero Ankle Boot, Osborn Brown Pattern Flats, Rampage Lenka Flat in Brown Tapestry, BC Footwear Snake Eyes Bootie, and Cobra Society Alcazar Boots.
– Alexandra Gambardella