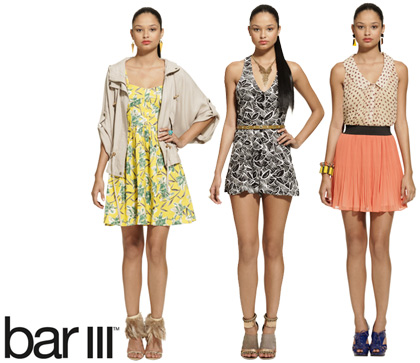 When you think of trendy hip clothing, do you think Macys? You should! This spring, Macys launched Bar III – a line of contemporary clothes for women and men.
From gauzy cotton tops to comfy maxi dresses, Bar III has got you covered. The cohesive collection features bright colors and patterns in modern styles. I had the opportunity to try a few pieces from the collection, and they have been on rotation ever since I got them! My favorite piece is a long, striped maxi skirt. It's super comfortable, and can be worn higher or lower on my hips depending on what shoes I am wearing that day. I like to pair it with either a simple tank and a few long necklaces, or the laid back, open-weave sweater they sent with it. The sweater, in white goes with just about everything, and the open-weave makes it ideal for late spring weather. Finally, I also received a crisp white linen blazer. I love this paired topped over a bright blouse or summer dress.
Items from the Bar III collection can be easily integrated into your existing wardrobe. Mixing trendy styles with a prints that give a nod to the past, Bar III clothing is wallet friendly with pieces ranging from $20-$80. Shop online at Macys.com or at your local Macys.
Pictured above:
Bar III Dolman-Sleeve Hooded Anorak ($74) & Sleeveless Sweetheart Floral-Print Dress ($45).
Bar III Romper, Sleeveless V Neck Leaf Printed Crisscross ($34.99).
Bar III Sleeveless Polka-Dot Chiffon Blouse ($49) & Crinkle-Pleated Mini ($49).