The 2011 Sundance Film Festival came and went, and was, as always, filled with fashion to be inspired by. It's always fun to see what the actors wore and which trends emerged from Park City, Utah.
This year, two of our favorite starlets, Zooey Deschanel and Elizabeth Banks, attended Sundance to promote their movie, 'My Idiot Brother'. Here's what they were spotted wearing, and some options on how to get their looks for less.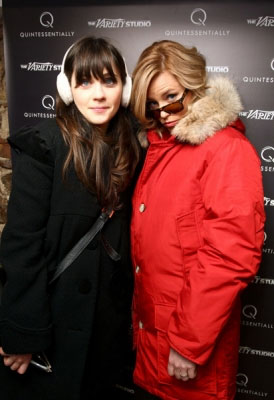 Adorable in cozy parkas and earmuffs, Zooey and Elizabeth brought their energetic smiles to Park City. Get Elizabeth's look with the ultra-comfy, fur-hooded Canada Goose Trillium Parka ($525). Keep ears warm with furry white earmuffs like Zooey wore. These white ones by Juicy Couture ($55) would be perfect.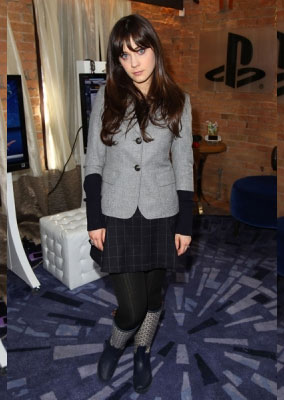 To attend the PlayStation Lounge at The Silver on January 23rd, Zooey was casual but cute in a grey blazer, fitted black knit top, mini-skirt, tights and printed rain boots. Get Deschanel's look for less with the Isabel Coat by Mike Gonzalez ($215), and däv's English Plaid rain boots in Slate ($80).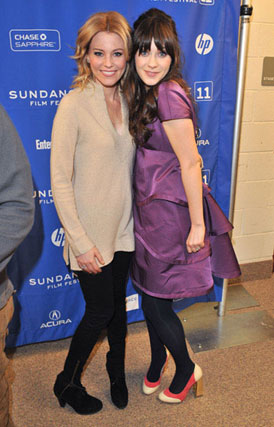 While attending the Tide Loads of Hope Brunch for 'Espwa' on January 22nd, Elizabeth Banks was sophisticated yet edgy in her light toned dress, skinny black pants and heels. Get her look with Tigerlily's Nesse Knit Dress ($179.95) and J Brand Zipper Leggings in Pitch ($160).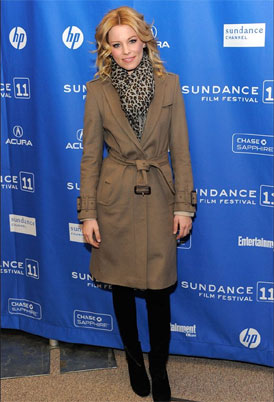 At the 'My Idiot Brother' premiere at the Eccies Center Theatre on January 22nd, Elizabeth Banks wore a classic wool trench and animal print scarf. For something similar, try Smythe's Wrap Coat in Camel ($835) and Yarnz Leopard Plum Gauze Scarf ($135.20).
*Images from ZooeyDeschanel.net*
What were your favorite looks from Sundance?