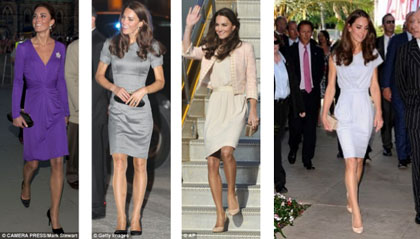 Kate Middleton's style has been on the radar of fashion followers since before the royal wedding. One trend she has been seen in is sheer hosiery, giving her legs a flawless look. Workouts, tanning and lotions all help your legs look beautiful, but by far the easiest way to achieve this look is with sheer hosiery. The trend was big in the 80's, but Hanes is making it modern with ultra-sheer, run resistant technology in their Silk Reflections Hosiery line. At just $10, you can achieve a smooth look in a variety of shades.
Angela Hawkins, General Manager hosiery brands at HanesBrands Inc. says:
We think Duchess Catherine looks polished and sophisticated in a youthful, modern way. I do believe that this trend will have an impact on U.S. sheer hosiery sales. We frequently see trends emanating from Europe and this should be no different. There has been a slow but steady increase in younger women wearing sheer hosiery, or as they say in the UK 'sheer tights.' We'll see where the royal road takes us.
What do you think of the sheer hosiery trend?