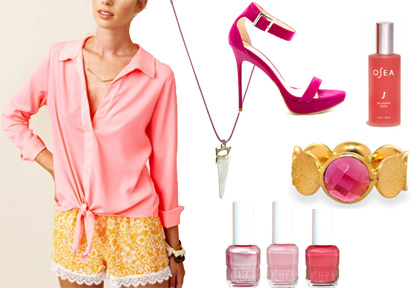 Each October, national public service organizations, professional medical associations, government agencies and individuals work together to promote breast cancer awareness. Whether the disease has touched you or loved ones personally, or not, you can do your part to raise awareness for the cure.
Even though October is National Breast Cancer Awareness Month, it is important to keep it in mind throughout the year. Early detection is key, and monthly self breast checks can help. To learn more, visit: NBCAM.org.
Above:
Trendy online boutique Planet Blue has dedicated a whole section of their site called Planet Pink. In honor of a staff member's mother who was undergoing treatment for breast cancer, thi special section of the site was created. After a successful response last year, the boutique plans to donate 10% of proceeds from the Pink Boutique to the Young Survival Coalition, the premier global organization dedicated to the critical issues unique to young women who are diagnosed with breast cancer. YSC offers resources, connections and outreach so women feel supported, empowered and hopeful. This Vintage Havana Tie Front Collared Top ($55) is super-versatile, dress up with some sparkly baubles or down with easy-going denim.
****
Jewelry designer Joan Hornig encourages women to use beauty and fashion in a new way, by giving 100% of the profits on each piece to a charity of the buyer's choice. Her unique pieces, like the
Breast Cancer Awareness Saw it Through Necklace
($125) honors fighters of the disease.
****
Heels.com is encouraging women to show their support by rocking pink heels this month, like these
Promise Romania
high-heeled sandals. How cute would these be for a night out with the girls?
****
OSEA Malibu
is doing their part by donating 20% of all online sales to the Breast Cancer Fund. The Breast Cancer Fund works to prevent breast cancer by eliminating our exposure to toxic chemicals and radiation linked to the disease. Their vegan products are 100% free of synthetic fragrances, genetically modified ingredients, petrochemicals, parabens, and sulfates. Use code "PINK" at checkout when making your purchase.
****
Designer Melinda Maria's love of jewelry began at an early age. Her collection was inspired by bringning people together and giving back. Sales from her pieces have gone to global charities. This month, she'll donate 10-20 percent of proceeds to the Breast Cancer Research Foundation. Her
Susan Pod Ring
($58) is gorgeous with it's pink tourmaline stone.
****
During October,
Duri Cosmetics company
encourages women to remind themselves to support the cause by painting nails one of their pink shades, such as Pearl Pink, Almost In Love or Forget Me Never ($6 each). All Duri Cosmetics nail products are environmentally friendly and free from DBP, Toluene and Formaldehyde.