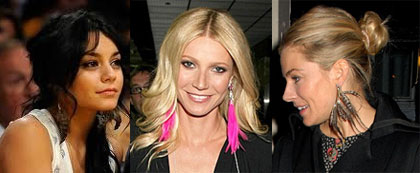 Loving the resurgence of feather earrings lately! Celebs like Gwyneth Paltrow, Vanessa Hudgens, Sienna Miller and many more have all been seen wearing feather shoulder dusters. They look great with short hair, but I also love the look of feather earrings mixed in with subtle feather hair extensions on a longer cut. Go bold with extra long styles in colorful feathers, or wear a more understated look with a shorter pair in neutral hues. I haven't picked up a pair yet, but have my eye on the ones below. Prices range anywhere from a few bucks to around $100. (You can also make your own – there are tons of how-to videos on the web).
1) Love Child Feather Cluster Earrings ($62)
2) Pyrite Feather Earrings ($34)
3) Carole Feather & Leaf Earrings ($10)
4) Feather Earrings With Acrylic Jewels And Chains In Teal With Gold Finish ($9.99)
5) BB's Dharma Feather Earrings ($88)
6) Cascading Feather Earrings ($24)
What do you think of feather earrings? How old is too old to rock the look?
*Image Source: PeopleStyleWatch*