And the winner is…Sahara! Thanks to everyone for your submissions! Check back for more giveaways on Skinnypurse.com!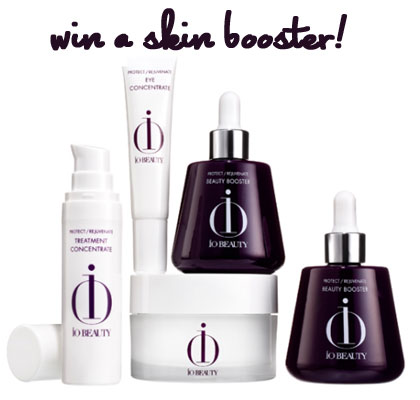 On Friday, February 17, 2012, QVC will unveil a new way to boost your beauty inside and out: io BEAUTY. iO Beauty is a synchronized topical and ingestible skincare regimen designed to deliver comprehensive beauty benefits. Developed by renowned beauty expert Sue Devitt and leading nutritionist Tanya Zuckerbrot—top experts in outer and inner beauty, respectively—io BEAUTY launching on QVC, bringing a new dimension to the multi-channel retailer's renowned range of beauty offerings.
GIVEAWAY Win a Free Skin Booster from iO Beauty! To enter, tune in on February 17th to watch IO Beauty's debut on QVC and answer the following 5 questions correctly:
1. What does I/O stand for?
2. For topical application to the skin, what other IO Beauty product would you mix the booster with?
3. What type of special "delivery system" is used in IO Beauty?
4. What are 2 of the active ingredients: (any 2 of the below)
Biodynamic Wild Australian Blackberry, Goji Berry, Mangosteen, Açai and Equis AV
5. How many ORAC units (the scientific measure of anitoxidants) does the IO Beauty Booster deliver?
Email info (@) skinnpurse.com with the answers to these 5 questions and you will be entered to win a free skin booster form iO Beauty! Tune into QVC.com on Friday, 2/17 to get all the info you need to answer the questions. Good luck!