And the winner is…Tracey Byram! Thanks to everyone for your submissions! This giveaway has ended. Check back for more giveaways on Skinnypurse.com!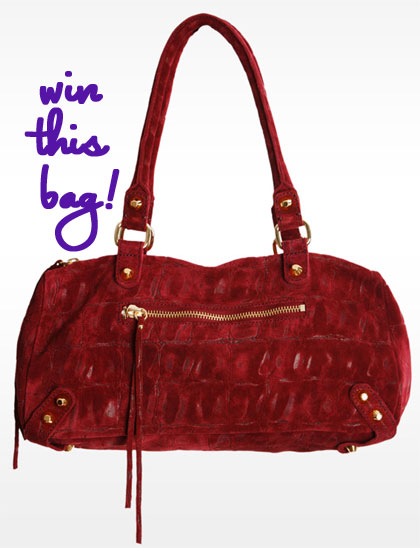 For years, Linea Pelle has been one of my favorite brands. The designs are consistently on trend and the quality superb. My first Linea Pelle bag was the Dylan Zipper Tote in Green, which I wrote about in my post on how to clean a leather handbag. I still love it and use it a ton. Not only is the washed leather soft and durable, but the style is a classic – a design still being offered. Since the Dylan bag, I've gone on to curate a selection of LP wallets, clutches, bags, belts and bracelets. All, with an undeniable style and quality about them that keep me coming back.
I am thrilled to share a handbag giveaway with Skinnypurse readers! Linea Pelle has partnered with me to give away a Jade Croco Large Speedy in Wine to one lucky reader!
An embossed croco design sets the Linea Pelle Jade Croco Speedy bag apart from the rest. The soft italian suede is heat embossed to allow some of the naked leather to come through to the surface, creating a beautiful texture. Measuring 9″h x 15.5″l with an 11″ handle drop, the bag features both interior and exterior pockets. Plenty of room for all your essentials. To check out the Jade Croco Speedy or other Linea Pelle goodies, visit their Valentine's Day Gift Shop!
To Enter, simply like both Skinnypurse and Linea Pelle on Facebook. Please leave a comment below to let us know you entered! And if you have already "liked" both of us, just leave a comment letting us know you are entering.
One lucky reader will be selected via Random.org and winner will be announced on Monday, February 20th, 2012. Good luck!
*********
For more info on Linea Pelle handbags, visit LPCollection.com or follow @lineapelle on Twitter.
For more Linea Pelle features on Skinnypurse, check out these posts: